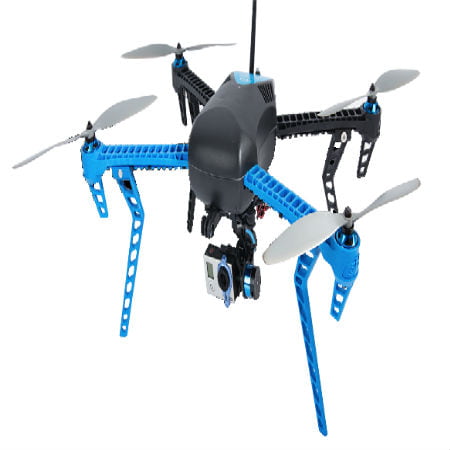 UAVs are all the rage these days, but despite its popularity among professionals, a lot of GPS-guided quadcopters on the market are too complicated for consumers. The company 3D Robotics has been aiming to inject more simplicity into the equation with its recently unveiled Iris— ready-to-fly, fully autonomous, user-friendly UAV. This GPS-guided quadcopter supports simple GPS controls via computers, tablets, or even smartphones.
3D GPS-Guided Quadcopter Features and Specifications
The GPS-guided quadcopter drone in itself is average in size with its length of 55 cm diagonally and 10 cm in height. Developers said that the main body is designed to be aerodynamic, durable, and lightweight but is strong enough to carry a payload.
The arms and feet of the drone are made from Zytel Nylon and are built to withstand impacts. However, they can be replaced easily and cheaply if needed. The motors and electronics are said to be powered by an 11.1V 3.5Ah LiPo battery, which brings the copter's total weight to 1282 grams (45.2 oz) when connected.
Fully charged, the battery can provide enough energy to power the device for 9 to 14 minutes of flight time.
Scroll down for video
Other than the typical manual controls used with a transmitter, the GPS-guided quadcopter, Iris can be guided in a number of ways using a simple point-and-click program via a computer or a smart device. A Cortex M4 processor handles the 32-bit autopilot along with a uBlox GPS unit with an integrated magnetometer. It was reported that 3D Robotics spent over four years and enlisted the help of over 40,000 volunteers to fine-tune the open source software that guides the Iris. The drone can be controlled on any device running Windows, OS X, Linux, or Android, but an iOS app is planned for the near future.
Users can set up to 126 waypoints for the drone, or in the case of the mobile app, draw a route on the screen to have the UAV follow a flight path via GPS coordinates. At any point during the flight, the Iris can be commanded to take off, land, or return to its starting position automatically. The software can also keep track of its position in real time and even keep a log of its movements. Alternatively, the program has a mode where the drone can follow its controller autonomously from a specific distance.
The program allows for an automatic failsafe command, which can tell the quad what to do in case it loses signal or detects low battery. Pilots have the option to set up virtual fences that can keep the copter from wandering outside its pre-set boundary regardless of its commands.
The current Iris model has a stable camera mount for a GoPro, which can also be linked to a software for a live video feed. Developers are planning on providing an autopilot-controlled gimbal, along with a range of different accessories, which can be attached via a rail system already implemented into the copter's arms.
Currently, 3D Robotics is offering pre-orders of the Iris drone via its Web site, with the basic package costing $659.99. Customers can also customize their order with add-ons, including a pre-programmed transmitter, extra batteries, replacement parts, or a GoPro camera. Pre-ordered devices are expected to ship by mid-September.
For beginner pilots, it might be best to hold off on ordering one. The company stated that its first batch of quadcopters are intended for experienced users and developers, who can lend some insight toward more consumer-friendly models. There may also be the need to require some firmware upgrades and a few engineering tweaks over time. Drone manufacturer 3D Robotics did promise, however, that the final version of the Iris will be released soon after.
Watch the videos below
Let us help you. We'd be delighted to answer any tracking questions you have or discuss the options in more details.