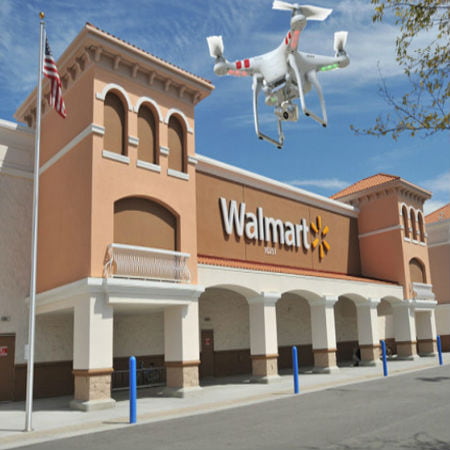 Drones have become so popular that even large companies have been getting into them. In fact, the famous American multinational retail corporation, Walmart ventures into drone.
Vice president of Emerging Sciences Shekar Natarajan demoed the new technology in a press conference from a Bentonville, Arkansas, distribution center on the eve of its shareholder's meeting.
Drone Utilization as Walmart Ventures into Drone
The technology will be replacing the jobs of inventory quality assurance employees. With its GPS drone tracker technology, it will cut inventory checks across the massive distribution centers from a month to a single day.
When Natarajan joined Walmart in November 2014, he and his team started investigating cutting-edge technologies to find the one they can utilize best. At the top of their list was the use of drone technology to improve the safety and efficiency of the company's 190 distribution centers across the US.
Scroll down for video
Walmart collaborated with the Federal Aviation Administration and NASA and is now developing autonomous technology that allows the GPS drone quadcopter, roughly 3 feet by 3 feet, to take 30 images per second from a camera mounted from the top. The camera is then linked to a control center and scans for tracking number matches. These matches are registered in green, empty spaces in blue and mismatches in red. An employee monitors the drone progress from a computer screen.
As of June, the technology has not yet been finalized, and there is no specific launch plan yet, but what is clear is that Walmart will limit the use of drones to its distribution centers, and employees who served as inventory checkers will be given new job opportunities to ensure that they will have a smooth transition inside the company.
Walmart did not disclose the amount it invested in the drones via their Emerging Sciences division; however, they did note that future applications as well as other artificial intelligence and virtual reality projects involved are in the works.
Take a page out of Walmart and use GPS drone tracking technology to help improve your business.
Watch the video below
Let us help you. We'd be delighted to answer any tracking questions you have or discuss the options in more details.