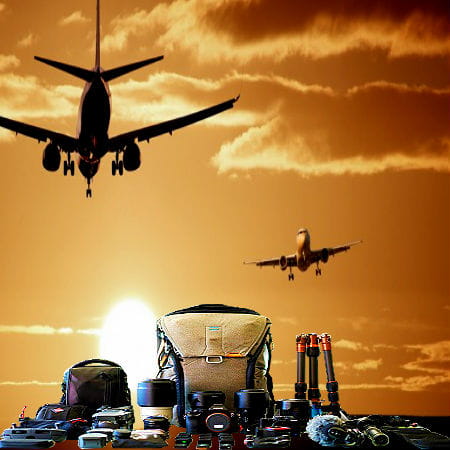 For filmmakers, travel forms a large part of the work. Flying back and forth for scheduled shoots is in the job description. And as the demand for their service increases, they not only travel from one state to another, they go on cross-country and cross-continental trips too. For a job that requires frequent trips, the type of storage bags filmmakers use is important. Travel bags should be of the best quality not just to protect the equipment inside but to make sure the crew members aren't overloaded and can easily carry their things without much hassle. Spectrecom Films, for instance, has encountered the same dilemma many times when traveling with film equipment, where they had to find bags sturdy and secure enough to keep their tools safe when they have to travel with film equipment. The group's advice? Buy whatever does the job best.
It's not just checked baggage handlers, exterior scratches, and uncanny weather that filmmakers and photographer have to worry about. The storage bags need to survive the heavy wear and tear that comes with frequent travels. Filmmaking equipment is heavy, as most of them are made of metal, and will easily poke holes in flimsy bags.
The Best Travel Bags to Use When Traveling with Film Equipment
To ensure equipment safety, Spectrecom Films has some tips for choosing the right travel bag for when you find yourself traveling with film equipment.
Scroll down for the videos
Travel Bags for Lighting Equipment
It must be long enough to fit the larger lighting stands and camera tripods.
It must be a semi-hard case for added security and support since lighting equipment easily breaks. A soft lighting bag is useless in securing the items, while a fully hard-case will use up half of the flight's baggage allowance since they are normally made of metal cases.
It needs to be a roller bag for easy transportation.
Photo flex roller cases are the perfect travel storage for lighting equipment. They have elongated designs and come with roller wheels. They are not too heavy, as they are semi-hard cases.
If another layer of support is what you're after, you can purchase huge pelican cases. They can store larger-size units and offer solid protection for lighting equipment. They also have a built-in handle and two roller wheels so you can drag them easily. Airports are one of the most crowded places. When traveling with film equipment, if you leave your spot to make a quick call and take your eyes off your belongings for a sec, you can lose them. So one of the best tips to avoid lost luggage is to settle for bags that you can push and pull without any difficulty so they're always with you. Although pelican cases weigh a lot more and may eat up a big part of your baggage allowance, they make a good choice.
Travel Bags for Camera and Lenses
It must be big enough to fit all the cameras and lenses. You can use either soft bags or hard-case bags, as longs as it is small enough to fit in the overhead cabins of the plane.
It needs to have a comfortable, simple, and light design so it can be easily carried around.
F-Stop camera rucksacks are quite simply the best camera rucksacks money can buy. Elegantly designed, these bags can carry a lot of weight but still feel comfortable on the shoulders.
Peli 1510 is also a good alternative. It meets flight cabin regulations and offers maximum protection, making it a good companion when traveling with film equipment.
Managing Equipment Storage Bags with Trackimo®
Traveling with film equipment is never easy. They are the bread and butter of movie-making, so these items should be handled with utmost care. But with a hectic schedule, tedious storyboard preparation, and countless other tasks to attend to, misplacing or losing a piece of film equipment is almost unavoidable. Fortunately, these incidents could be prevented by purchasing GPS backpack tracker.
With the help of the latest GPS technology, particularly Trackimo®'s cutting-edge tracking solutions, you can keep your belongings from winding up in the wrong places and falling into the wrong hands. Trackimo devices are tiny, durable, and portable monitoring unit that can be placed inside bags or attached to your filmmaking kit.
Trackimo® devices help you determine your valuables' accurate location at that very second, which is one of the many benefits of real-time tracking. With its top-notch tracking features, you can check your items' whereabouts from a personal computer or smartphone. The trackers are equipped with 3G GPS network, enabling them to determine the subject's location anytime, anywhere.
As an added security feature, Trackimo® has advanced motion and light sensors so the second it detects a movement, either the bag is moved or opened, you will immediately get an alert. Moreover, a Trackimo® device comes with batteries that last up to seven days so you can trace your equipment throughout multiple flights.
With Trackimo®, a hassle-free, relaxed, and secure travel with film equipment on board is within reach.
Watch the videos below
Let us help you. We'd be delighted to answer any tracking questions you have or discuss the options in more details.