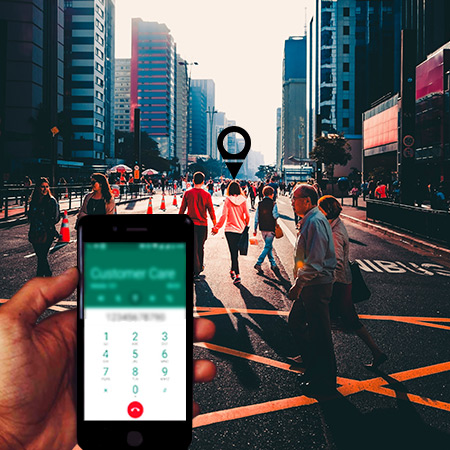 Here is a truth: there are no third-party applications that will allow you to track someone by their phone number. Unless you have added them in-app and they allowed you to track them using their cell numbers, or you work for the government and obtained a valid warrant to do so.
What do you do then? How do you track them?
4 Ways to Track Someone by Their Phone Number
Most people are willing to pay for an application that promises seamless tracking, even track someone by their phone number alone, but finding a good one can be a challenge. If there is an app that could, only law enforcement officials can gain access to such system because civilian use of such app can be considered spying.
Scroll down for videos
But still, it is not entirely impossible. Here are other ways to track someone by their phone number without having to go against the law.
1. Call your network provider.
Network providers store call logs, which means that you can ask some questions about certain calls. However, they only give the city and state from where the call was made, and that's the only information they can share even if you have fully authenticated your account.
You can also try asking them to look up the phone number on their system and check if something comes up; that is, if the phone number is from the same provider. Agents can provide you no more than the owner's name, but this will be enough to give you an idea who was calling you.
2. Subscribe to a caller ID identifier.
Most telecommunications provider have a special caller ID (CNAM) identifier, but it comes with a price. But with what you pay, you can identify the caller's location. It will even show the caller's CNAM on your phone screen, regardless if they have purchased a CNAM blocker, a feature that hides a caller's name and phone number when dialing someone.
3. Use CNAM lookup tool.
Another method you can use to track someone by their phone number is to use CNAM lookup tools on the web. If the call was just a robocall or robot-operated call, the phone number will show no details. But if someone owns it, it will show the owner's name, city, and state. However, the information you see might not be correct, so it's important to check other lookup tools to see if the results would match.
4. Hack the phone.
It is indeed possible to track a phone using a cellular number—only if it's yours! What you can do is to hack your phone using an app called Spyzie. Take note that the app will ask for further details to ensure that the phone is, indeed, yours.
You can send a text message with a hacking link to your phone number. Make sure that the message is convincing so the receiving person that has your phone will click on the link. The link will automatically install and work in the background. Then you can access information on the targeted phone. Take note, it has a subscription fee of $39.99 a month.
Watch the videos below
Let us help you. We'd be delighted to answer any tracking questions you have or discuss the options in more details.