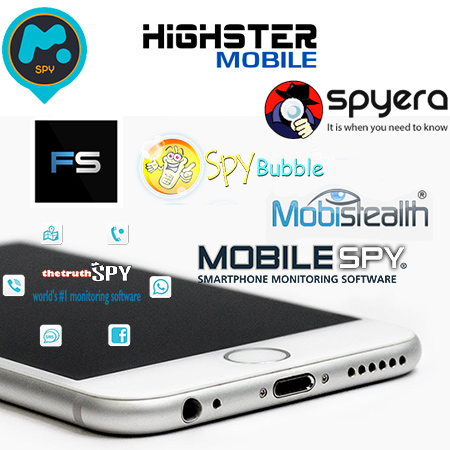 Whether you are a concerned parent or an employer that needs to keep watch on the whereabouts of your employees, spy apps are available for you to easily track someone's activity. Keep in mind, however, that using spy apps may require your recipient's consent. Otherwise, you may be subject to legal issues.
There are a lot of spy apps available for iOS devices, but many of them fail to deliver what they promise to do. Worse, many of these spy apps come with a price, so you might want to make sure you're paying for an app that actually works. To save your time, we've come up with a list of 8 top-rated spy apps available on the App Store.
8 Top-Rated Spy Apps for Your iOS Devices
mSpy
mSpy is perhaps the most popular cell phone monitoring app, with its over one million users. It's rather easy to use. All you have to do is install the app on the target phone, then activate it using your license code. Once that's done, you'll be able to log in to the online portal to access information collected from the target phone such as messages (texts and messages from various other messaging apps), phone calls, browsing history, and GPS location. mSpy also has many advanced features including social media monitoring, key logger, no-jailbreak version, parental controls, and more. mSpy is known to track up to 25 services on an iPhone! Even more amazingly, mSpy offers several different packages and pricing options so users can select the package with the features they want for the specific period they intend to use the service.
Highster
If you're looking for a low-cost spy app for iOS, Highster Mobile should be at the top of your list. Highster has the ability to track all communications going through the iPhone of your target. This app can fetch texts, iMessages, calls, and the GPS location of any iPhone remotely. You can also reply on behalf of the other user and block the sites you do not want them to visit again. You can save screenshots, images, and other files from the target's phone as well, automatically transferring them to your device. It does not even require a monthly subscription as you just pay $70 once and you are good to go! The huge disadvantage is its lack of support for desktop computers and non-jailbroken devices.
SpyEra
SpyEra is another complete spy package for all your spy needs as it can track your calls, messages, social media activities, key logging, and many other things. It's one of the best spyware for iPhone you can ever get as it is fully loaded with spy features you would not get in any other single app. Once installed, Spyera allows you to monitor every inbound and outbound call, SMS, and email. You may choose to record them, even if they get deleted. Even VoIP calls can be recorded and all images and videos that are created or received can also be intercepted. SpyEra also monitors online chat apps and GPS location. This can be a little expensive, though, starting from $150 for 3 months.
FlexiSPY
FlexiSPY is one of the most feature-rich and powerful cell phone spy apps out there. It's one of the very few spy apps to offer Call Interception, which lets you secretly record and listen in to phone calls. The catch is, you'll have to root or jailbreak the target phone in order to install it, and it's also not available for desktops. There are two versions: premium and extreme. FlexiSPY Premium offers everything you generally need from a phone spy app. If you're looking for the more advanced features, the extreme version might be what you need. FlexiSpy is available for $68, $100, and $150.
SpyBubble
If you constantly wonder whether your children or teens are where they say they are, SpyBubble may be the solution. This parental control app uses GPS technology to let you see the location of the phone you monitor at all times. This spy app cannot be detected by your recipient, so no one else can remove it but you. Like Highster, you only need to pay a one-time fee of $50. However, there are only a few logging features available on this cell phone parental control software. It does not help you block offensive websites or restrict calls and messages from specific contacts. The application does not have as many features as other apps, but if you are not going to play a professional spy, it will suffice.
Mobistealth
Like most iPhone spy apps, MobiStealth can track all outgoing and incoming messages on the user's phone, but what makes it better is it captures keystrokes, as well as deleted content, and crack passwords easily. Sadly, you have to root or jailbreak the target phone to monitor chat logs in Skype and Viber. This cell phone parental control software lets you restrict some of your child's internet activity. You can block apps and websites you deem offensive, and the software notifies you when your child searches the internet using inappropriate keywords as well as when they use them in texts. You can access their contacts list, the images they take and store on their device, and GPS tracking data so you know where they are. Unfortunately, MobiStealth doesn't have a feature that allows you to spy on Facebook or Snapchat. MobiStealth costs $20 for 2 weeks, $79 for 3 months, and $120 for 6 months.
Mobile Spy
Mobile Spy has all the usual features you can expect from a spy app, including location tracking, remote blocking, and phone recording. Mobile Spy is rather easy to install and configure. You can see the actual screen of the phone (updated every 90 seconds), block apps and websites, receive safe zone alerts, and send commands to remotely lock or unlock the phone. However, unlike other popular mobile monitoring services and spy apps like mSpy, Mobile Spy is not available for desktop computers, which is sad since it is quite overpriced ($70 for 6 months and $100 for 1 year). Also, it only works on jailbroken iOS devices.
TheTruthSpy
TheTruthSpy has all the basic features you need in order to monitor all the activities of your kids and employees. This amazing app and service allows users to monitor messages, call logs, and contacts, as well as internet usage and social network activities. It does support Facebook monitoring, WhatsApp monitoring, and Viber monitoring. However, TheTruthSpy does not have email monitoring, which is a disadvantage because most of the other monitoring apps and services have this particular feature. Other features include GPS tracking, media file access, and remote deleting. The standard package is available for $17, $46, $70, and $115 for 1, 3, 6, and 12 months, respectively.
Remember
As we have mentioned, spying on people without their consent may be illegal. Use spy apps with caution. On the other hand, here are signs to look out for in case you suspect a spy app is installed on your phone without your permission.
Watch the video below
Let us help you. We'd be delighted to answer any tracking questions you have or discuss the options in more details.