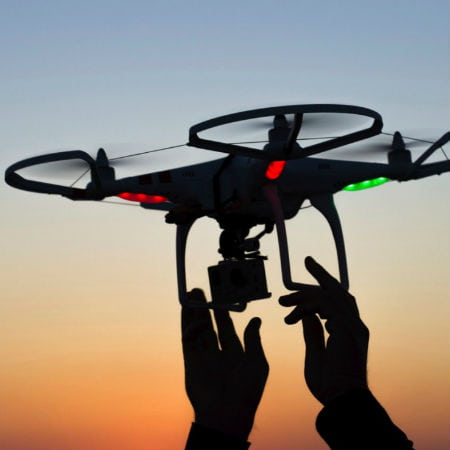 GPS-enabled unmanned aerial vehicles or drones are cool and ostentatious, especially when they are afloat in the sky.
But they are not just any flashy flying machine, they are machines that are capable of doing things that could change the world in some way.
Scroll down for video
Ted Horan from RDO Equipment Company says that more than the excitement it brings, drones primarily gather important data.
One of the busiest airspace for unmanned aviation in the US is North Dakota. So Fargo is an ideal place to host DroneFocusCon.
"We're really on the forefront because we've got the tools; we've got the airspace, we've got the education, we've got the leaders, we've got the technology, we've got startup companies," says ND gubernatorial candidate Doug Burgum.
Drone technology evolution and market saturation lead to cheap GPS-enabled drones for sale, making drone quadcopters more accessible to the public. Drones today have become lighter even with cameras attached to them and less complicated to operate than the previous models.
Best Drone Applications
Drones are not just for recreational flying, it also has many useful commercial applications. GPS-enabled drones can be used to monitor assets, improve customer service, capture news or major road incidents, determine the population count, conduct search-and-rescue missions, and even monitor crop. Its ability to collect data is truly useful in various fields.
"As you see here today, unmanned technology is already being used in agriculture, construction, and in the military, but they're discussing it in brand-new ways you might not even have thought of, including taking the driver out of the car.
"The world is truly changing, and the UAS technology is gonna be at the center of that," says Burgum.
Use of Drones Limited by Small UAS Rule
Though the industry is reaching a new heights, there is one thing that may hamper its growth—the latest regulations concerning the use of drones particularly the upcoming small UAS rule sponsored by Federal Aviation Administration (FAA).
The small UAS rule aims to minimize risk to people, properties, and other aircraft. The regulation only allows flying of UAVs during daylight and within the pilot's line of sight. It also created speed and height restrictions, the purpose is to protect people and properties on the ground.
While nothing is definite yet, the small UAS rule will show operators needing to seek permission from FAA to fly their drones.
According to Burgum, North Dakota is in the right track to be the Silicon Valley of UAS technology, that's his vision and he wants to see it happen.
Watch the video below
Let us help you. We'd be delighted to answer any tracking questions you have or discuss the options in more details