A dog that ran off after a nasty crash is still being searched for, and now the search is being moved from the ground to the air. Drones used in search of missing dog – a deaf dog. The owner, Jon Weisser, isn't giving up looking for his 16-year-old husky, Fenway. "He was spotted just across from us, here on the gully," said Weisser.
Drones Used in Search of Missing Dog
Scroll down for video
One week ago, Weisser and his family were coming in from Colorado on I-25. Right after they exited Santa Fe, they hit a patch of ice. "We hit the wire fence and the median, which caused the truck to roll five times," said Weisser.
The entire family was hospitalized, but they all recovered all right. One of their dogs died in the crash, one survived but Fenway ran away. These incidents couldn't fully be avoided. However, despite this unfortunate event, there a plenty of tips to finding your lost pet.
"The fact that he's deaf," said Weisser. "He can't hear that we're out here looking."
It's been a week since volunteers have been looking for it on foot until Tuesday, April 26, when a drone company in Santa Fe offered to search for Fenway from the air.
They are actually having a hard time looking for Fenway due to New Mexico's climate and geography. "We've got a lot of rough terrain in New Mexico, and sometimes, you can be just a few dozen feet away from what you're searching for and not be able to find it because of the terrain," said Luke Fitch with Altitude FX.
The drone started the search right from the area where the dog was spotted last and maintained an altitude of 50-feet. Weisser and volunteers watched a real-time video feed for any signs of the husky.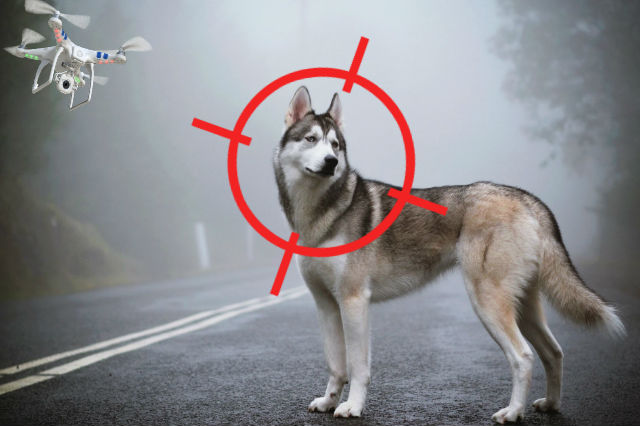 "Obviously, we're hoping we hit a home run and find the dog," said Fitch. "Even if not, we can really eliminate areas that are much more difficult to find on foot."
For Weisser, he hopes they are close to finding his best friend. "Just want him back safe," said Weisser.
Fenway is still missing at the moment, and Saturday, April 23, was the last time he was spotted. Though there a lot of ways to finding a lost pet, such as a GPS pet tracking device, this is the first time wherein drones used in search of missing dog and they hope their public service in finding Fenway yields results and changes public perception of drones.
Watch the video below
Let us help you. We'd be delighted to answer any tracking questions you have or discuss the options in more details