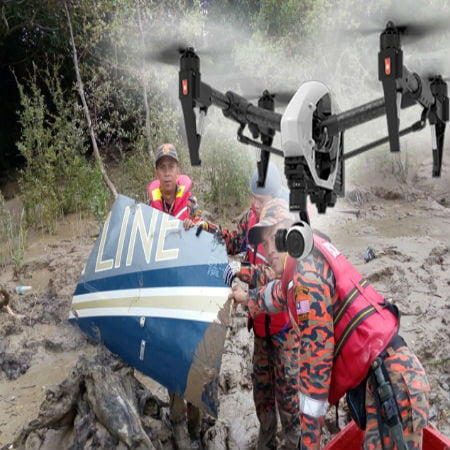 A crash victim search using drones has facilitated the rescue operation aimed to locate the last victim in the helicopter crash at Batang Lupar who happens to be the pilot, Capt. Rudolf Rex Ragas, a Filipino.
Crash Victim Search Using Drones From Telekom Malaysia
Scroll down for video
Two 'Dron mers 999' operators from Telekom Malaysia have been deployed from Kuala Lumpur to help in the search. Shaiful Zamri Masri, 42, is one of them, and he said that two UAV models, which are the Phantom 4 and Inspire 1 were to be used.
"The drones will take photographs and record videos. If we find anything on the target, we will alert the SAR operations center. Every date will be shared with the team," he said at the SAR operations center in Lingga.

Drone Coordination
The drone is to be managed with his colleague Muhamad Afiq Sadali. The chief of Kampung Siantan, Lingga, 57-year-old Wan Amit Wan Kamil, has said that he and other residents of the village are happy to be asked to assist in the crash victim search using drones.
The Sekolah Kebangsaan Lela Pahlawan, Lingga, the security guard said he found a backpack, which he thought might have some connection with the accident while searching around Batang Lupar in his boat.
"I was steering the boat in Selimbang River near Peleban about 7  km from the operations center when I saw a backpack hanging on a 'pedada' tree," he told Bernama. Wan Amit confirmed that he since took the bag and delivered it to the SAR operations center.
In the same vein, the remains of the found five members that were onboard that copter has been taken to their respective states for burial and other funeral rites.
The five were Plantation Industries and Commodities Deputy Minister Datuk Noriah Kasnon, her husband Asmuni Abdullah, and her bodyguard Ahmad Sobri Harun. The other two were plantation Industries and Commodities secretary-general Datuk Dr. Sundaran Annamalai, and Kuala Kangsar Member of Parliament Datuk Wan Mohammad Khair-il Anuar Wan Ahmad, who was also Malaysian Palm Oil Board chairman.
This is indeed a very sad incident and we hope the deployment of drones for the search will yield good fruits and help find the body of the pilot. We also pray for the peaceful repose of the dead victims of the plane.
Watch the video below
Let us help you. We'd be delighted to answer any tracking questions you have or discuss the options in more details