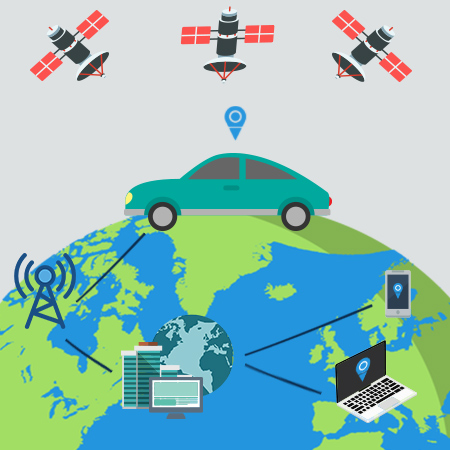 GPS vehicle tracking has been an important tool in cutting expenses, from small businesses to national corporations. Fleet companies, in particular, have been able to manage their assets effectively through the use tracking systems. As a result, they have successfully saved on operational costs and ensure proper customer satisfaction at the same time.
Trackimo is a GPS tracking system designed to provide solutions for business operators worldwide. The advanced GPS technology will allow you to streamline operations at ease by generating real-time reports through mobile or a personal computer.
Scroll down for video
To give you a more comprehensive and detailed explanation on the importance of GPS tracking devices for fleet companies, read on below.
Benefits of GPS Tracking on Fleet
1. Reduce fuel costs
Covering one of the biggest company expenses each year is fuel. With a GPS tracking system, fleet managers can measure the routes their vehicles are taking, then with this data, they can map out shorter routes and later on save on fuel costs.
Another cause for high fuel usage is speeding. GPS tracking systems can gather information on your driver's speed and alert dispatchers in real time, if they go beyond the threshold set. By doing this, companies may significantly reduce the amount of fuel used and ensure that they are not going to waste.
Fleet companies can save on fuel by constantly checking on employee productivity as well. Exceeding break periods and purposely going through longer routes to kill time are common driver malpractices that can result in high fuel costs. A GPS tracking device will give managers the convenience of checking the status of their vehicles in real time.
Lastly, vehicle tracking allows managers to map out which trucks are closest to the delivery site and dispatch them there. Not only will this ensure accurate delivery times but it will reduce fuel cost.
2. Monitoring driver behavior
Knowing that they are being monitored will prompt drivers to handle their assigned vehicles responsibly. GPS tracking systems generate reports that make reprimanding employees who mishandle the company's vehicles justifiable.
Adhering to the driver policy is enough to eliminate high maintenance costs for vehicles. It also encourages productivity by providing unbiased data on their time-in, duration of break period, and when they end their day.
An accurate report on their performance will also allow management to provide incentives or rewards for those performing well. As a result, this will serve as a method for companies to retain drivers with good work records.
3. Avoid theft and ensure driver safety
Costs caused by stolen trucks are a huge blow to the company's budget and resources. With a GPS tracking system, you can recover thousands worth of equipment and materials by having the device automatically notify you of their whereabouts.
While on the road, a driver's safety is placed at risk due to robbery or road accidents. Trackimo automatically alerts dispatchers in case of emergency situations by simply clicking on a distress button.
4. Ensure better customer service
Prior to vehicle tracking software, many customers remained oblivious of the exact time of arrival of their orders. Thanks to technological advancements, GPS systems now allow car trackers to know the exact location of their fleet and assure clients that they will arrive at a certain time and drop off point.
The same goes for late deliveries. There is nothing more frustrating for a client than having customer service not inform them the reason behind the delay and what the projected delivery time is. A GPS tracking system can aid customer service representatives in providing all the necessary information a client needs like the vehicle's exact movement and estimated time of arrival.
Additionally, this allows management to dispatch a truck to its closest job site, resulting in a smooth-flowing business operation throughout the day. This reduces fuel usage and maintenance fees while providing top-notch customer service.
Strong GPS providers like Trackimo help numerous commercial companies optimize productivity and let them enjoy other numerous benefits like the ones mentioned.
The Difference Between Active and Passive GPS
If you are looking for a GPS provider in the market, you will most likely come across two terms: active and passive GPS.
Trackimo uses active vehicle tracking. Active GPS trackers transmit data in real time, giving the management exact location and status of their fleet. The actual device needs to be hardwired to the vehicle and a software application needs to be installed in a phone or mobile to access the real-time updates.
On the other hand, passive vehicle tracking does not give live updates. Instead, the data is stored in a USB, internal memory, or memory card in the data logger. It then needs to be connected to a computer so you can view these updates.
Passive tracking systems are used by fleet companies since they generally cost less than active trackers. But there has been a high demand for active trackers nowadays because of the many benefits users get from it.
Understanding GPS Software
Trackimo's software application is designed to be user friendly and easy to install. All information and live updates from your fleet can be accessed if your device is connected to the Internet.
Trackimo provides easy access to a company's vehicle asset 24/7 without the need to leave the office. This makes it a safe, cost-effective, and high-quality tool for businesses everywhere.
How Trackimo works
3G GPS tracking devices for fleets have similar use as the mapping system of maritime GPS. Trackimo uses both GPS and cell ID technology to track the device. The wireless GSM network transmits its positions to a Web-based portal, allowing users to view the exact location of the device.
Trackimo makes use of Google Maps interface, which is well suited for urban areas, helping drivers avoid any delays throughout the day.
Trackimo reports and alerts
Businesses may cut on administrative work as reports are generated automatically.
Trackimo generates the following individual reports that are useful for those in the transport industry:
Reports on an individual asset basis or for an entire fleet
Standard reports on the time and movement records for each tracked asset, generated by schedule or on-demand
On-demand reports called directly from map view
Reports generated by user-defined time period
Reports easily exported in common formats
One year of historical data
Those in the freight and logistics industry know that managing a fleet is difficult. Organization plays a key factor in providing quality and reliable service to your customers. With the reports mentioned above, you have the freedom of meeting deadlines, without the need of compromising the safety of your items, assets, or employees.
In case your company continues to struggle to keep the loyal clients yet alone attract potential new ones, then a GPS tracking system like Trackimo will upgrade your business process. Invest on this technology and take advantage of its benefits as you deliver more accurate and faster service to your clients while creating a huge impact on the company's growth.
Introduce GPS tracking to your employees
Are you completely committed in investing in a GPS tracking system? If yes, you may want to introduce this new policy to your employee. Note that this does not in any way compromise their privacy. Employees are obliged to adhere to company rules as long as it's ethical.
First off, you need to highlight its benefits. Safety functions and company savings are enough for them to agree to it. Drivers may also take advantage of how GPS helps protect them against any charges in case an accident happens while on the road.
Lastly, tracking system is a customer service tool that draws clients in and creates more business opportunities that are essential for the company's growth. As a result, this means more financial stability and secure jobs.
Watch the videos below
Let us help you. We'd be delighted to answer any tracking questions you have or discuss the options in more details