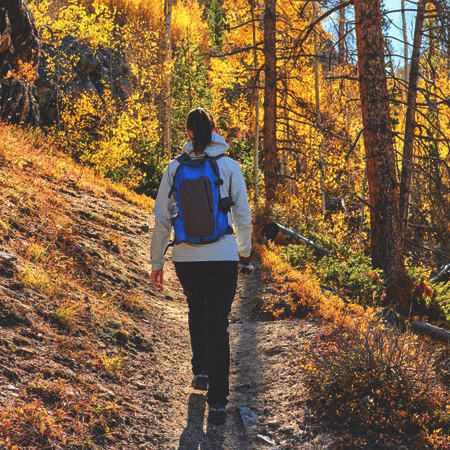 You know what's always a good activity to do during the fall? Yes, you're right: it's hiking. While you can always do this pleasant activity during other seasons of the year, there is just something special about the scenery and experiences you'll get to enjoy when you go on a hike during the fall season. Indeed, fall offers a charm that you'd be hard put to find at other times of the year. If you're not convinced yet, we've compiled a list of reasons that explain why fall is possibly the best time to visit the trails.
Reasons Autumn Is the Best Time to Visit the Trails
1. The temperature is more pleasant.
Summer is just too hot, and spring and winter can be too cold for you to ever enjoy the views you'll see on a hike. In summer, you'll be sweltering hot, while in spring and winter, you'll probably want nothing else than to get away from the freezing cold outdoors and go home to your warm fireplace. Fall offers just the right temperature as it's neither too hot nor too cold.
Scroll down for video
2. You can slow down and actually look.
Because of the more pleasant temperature, you can actually afford to take your time and enjoy the scenery during your hike. And it's worthwhile to do so as it is during fall that you'll get to see the most vibrant scenery and most vivid colors. Whether you're into photography or not, you can't help but take out your camera and capture all those amazing sights for posterity. 
3. More wildlife is around at this time of year.
Fall is the season when you'd see a lot of animals going back and forth in the woods as this is the time when they start preparing for the winter, gathering food and fixing their shelters in anticipation of the cold winter months. This is the time when you're more likely to see and come across wildlife like squirrels, rabbits, foxes, moose, and the like as they go about their daily routines. But make sure you bring your binoculars.
4. There are fewer people around.
You'd think because the weather is more pleasant there'd be more people around, but you'd be wrong. Fall is the season when schools get back into session, and so you'll be able to encounter fewer people on the trails because there will be fewer families going on trips. In fact, fall is off-peak season for most natural parks for this reason, and so you'd be able to enjoy lower rates. 
5. There are fewer insects at this time of year.
If you've gone on a hike during summer, you've probably been bothered by hordes of mosquitoes following you around. When fall comes, those mosquitoes and other insects like it settle down. This makes fall the perfect time to explore that you've always been curious about.
6. Two words: fall campfires.
If one of your fondest childhood memories is that of going camping, then you know that few things are better in the world than gathering with your family and friends in front of a warm campfire while you're all toasting smores and telling each other scary stories. You can relive this experience again when you go visit the trails this fall season.
Planning Out Your Hiking Adventure
Deciding to go camping is one thing. Planning out your adventure is another. Going on a hike is not as simple as grabbing your bag, putting on your hiking shoes, and running out the door to the nearest trail. Like in any other endeavor, there are things you have to consider.
1. Decide on the length of your hike.
If you're just a beginner, you're better off picking hiking trails that can you can hike in less than a day, where you won't be required to pack a tent or bring an extra change of clothes. If you have more experience, however, you can choose more complicated and longer trails, provided you have the time.
2. If you're going solo, make sure to take some safety precautions.
Are you going by yourself or with a group of friends? Although being with other people is ultimately safer, going on a solo hike can also be a meaningful experience, especially if you're in a meditative mood. However, before you go on any solo adventures, you should first protect yourself by investing in a GPS tracker. Such a device will help your loved ones keep track of where you are, and you can also use it to get in touch with them in case of an emergency.
3. Match the difficulty of the trail to your level as a hiker.
For instance, if you're a newbie to the world of hiking, you're terribly out of shape, or you have just recently recovered from an injury or illness, it wouldn't be the smartest of ideas to go on an hours-long hike that will take you out into the unknown wilderness. In those instances, you need to start slow and choose trails that will allow you to pause when you need to or to return to your car and go home when you want to.
4. Choose your hiking location.
If you don't have any specific trails already in mind, you can research by going online and searching for nearby parks that fit your needs and plans. You can also ask your adventurous friends if they know of any good trails that would be perfect for a hike.
5. Before you go on a hike, it's a must that you let people know where you're going and when.
You don't want to be stuck in an isolated place and no one knows where you are. For this reason, as mentioned above, it's important that you invest in a GPS tracker that will let your loved ones know your exact whereabouts. You can also use the SOS button on such devices to get in touch with them if ever there's a crisis.
Essential Items You Should Bring On a Hike
Whether you're exploring a trail for a few hours or days, there are a few essential items that you must not forget to bring with you.
Proper shoes
If you're going on a day hike or you're exploring uncomplicated terrain, you're good to go with just a pair of trail shoes. For longer hikes or more technical terrain, you're better off wearing hiking boots as they offer more support.
Map, compass, and GPS tracker
If you get lost on your hike, a map and compass will be useful items to have as they can determine your location as well as your geographical proximity to your campsite or destination, water sources, and exit routes. As mentioned above, a GPS tracker is an essential item you'd want to have on your hike as it can increase your level of safety and security while hiking. Trackimo offers the best tracking devices in the market with the widest set of features at a cost-effective price. 
Extra water
One of the things you don't want to be when hiking is dehydrated. Without sufficient, your body simply cannot function well. If there are water sources on your trail, you can choose to just bring along a water bottle just as long you also take water purifying tablets, just to make sure you don't ingest dirty or polluted water.
Extra food
Another thing you shouldn't forget is extra food. Anything can happen while you're on hike, and you want to have enough energy to be able to deal with any crisis or emergency.
Rain gear
This is important in case it rains and you can't find immediate shelter. Also, make it a point to dress in layers as this allows you to adjust according to the changing weather and activity. You should also wear a hat to protect your head from the sun, rain, and other weather elements.
Safety items
You'd want to have items that you can use in case of an emergency. A lighter can be helpful, in case it gets too cold and you'd need to build a fire to warm yourself by. A flashlight or headlamp is also necessary in case you'd need to walk around the night or it gets dim during the day. Lastly, a whistle can allow you to call for immediate help in case you are in any trouble.
First aid kit
When you're in a medical emergency, a first aid kit is the best thing to have around. If assembling your own kit is too much of a hassle for you, you can get a hold of prepackaged kits at stores and pharmacies. You should also prepare yourself by enrolling in a first aid class; the knowledge that you can gain from such a course can ultimately save your life when the worst scenario happens.
Durable backpack
Of course, you'd need a sturdy and durable bag that can contain all these essential items. It should have useful features like pockets and compartments to keep your items in so you can hike comfortably. Moreover, make sure it is made of waterproof material so your stuff won't get damp or wet in case of a downpour.
Watch the video below
Let us help you. We'd be delighted to answer any tracking questions you have or discuss the options in more details