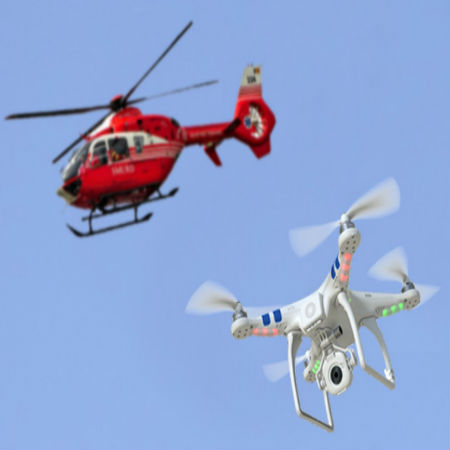 The medical helicopters are in a race against time, trying to save lives thousands of feet in the air. However, the indiscriminate use of drones on the sky is putting these lives in further danger.
Medical Helicopters Claim Drones as a Threat
Scroll down for video
According to the Federal Aviation Administration (FAA), there are now more unmanned aircraft in the country than there are piloted aircraft. And as the case in the St. Louis region, the unmanned devices are creating concern for first responders, like medical helicopters.
In last November, a medical helicopter departing from St. Louis Children's Hospital nearly collided with a large drone over Tower Grove Park.
"The pilot banked really hard and I looked out the window and there was a drone about eye level with us," said flight nurse Maria Largura, who was one of the four crew members on board.
Of course, the crew was able to avoid a collision and arrived safely at their destination. But up till now, the identity of the person responsible for flying the drone is yet to be known.
Largura explained to NewsChannel 5 that the close call was like nothing she had ever experienced. She added that consciousness about drones or birds is now part of their training on situational awareness in the sky.
"And once something like that happens, you're much more aware that something is out there. He was avoiding something—whether it was a bird or now a drone," she explained.
The FAA is predicting that around 2.5 million drones will be in the air by the end of this year, leading to concerns over how such tremendous growth in number might affect other air space users.
"There are terrible consequences for a drone striking an aircraft," Largura worried.
Actually, this is not an issue that's isolated only to St. Louis Children's Hospital. Every month, the FAA claims it receives 100 of reports across the country involving unmanned aircraft flying where they're not supposed to be. Last year, FAA recorded a total of  1,400 similar incidents.
"I would argue that most of these situations are just people and not knowing they were not supposed to do it," said Dr. Humberto Gonzalez, an assistant professor at Washington University in St. Louis. Gonzalez added that mid-air collisions involving drones are inevitable if the situation goes unchecked.
"If you have so many near collisions, you're going to have a collision. There is no way around it," he said.
That's why he's working to develop software that could help drones avoid other objects.
"So if something is coming from that direction, then this is the action the drone should take to avoid it, for example," he explained.
As it stands now, regulatory authority over drones lies with the FAA. The rules are constantly evolving, making it necessary for a new set of regulations before the end of this year.
"You cannot just say you're not going to fly this thing. There are uses. It could be very helpful," Gonzalez said.
Presently, users must register with the FAA to operate a drone, meaning the key will be to find a safe way to share the sky.
"We just try not to think about the danger. We focus on our patient and the mission and part of that mission is being aware of what's out there," he concluded.
Watch the video below
Let us help you. We'd be delighted to answer any tracking questions you have or discuss the options in more details