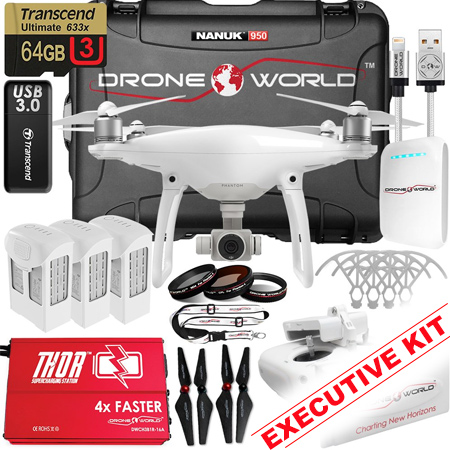 Drone World announces the Phantom 4 Executive Kit is fully loaded and includes the Phantom4 Quadcopter, with premium upgrades, such as the recently leaked "fully internalized" remote control signal booster.
Drone World started the shipments of the DJI Phantom 4 Drone on April 1, but the executive kit has been prepared months before. The previous kit was a bestseller, so there are high expectations for the latest model.
The Phantom 4 Executive Kit
Scroll down for video
"This offering has no equal. We knew our Phantom 3 Executive Bundle was a game-changer and our new Phantom 4 bundle now has the most innovative radio control system in the world," Drone World CEO, Stephen McKenna, said. "It has two massive signal boosters that are built directly into the remote controller, a tried and true panel antenna, and a sophisticated cooling system that are all powered from an ultra-efficient internal battery. Our signal booster is the cleanest, most reliable, and to some, the most mysterious piece of engineering marvel in the industry. We have already gotten numerous people asking how we did it!"
She also compared the product to another popular gadget, saying that "This reminds me of a story I read in the paper: Honda bought a new Tesla Model S P90D because it wanted to figure out Tesla's secrets. I'm sure more than a few competitors are interested in taking apart our system."
The Phantom 4 Executive Kit includes the following accessories:
A Phantom 4 drone
Drone World Signal Boosting System
Nanuk 950 wheeled hard case with custom foam insert
Portable battery charger
L-Series Premium Lens Filter Kit
16 GB and 64 GB MicroSD cards
Phone or tablet sun hood
Remote lanyard
Each kit also includes a free mini-drone, which is normally priced at $29. Drone World added that it offers multiple upgrades, including accident insurance, pre-installed firmware, specialized FPV goggles, plus an HDMI module with the installation. A GPS tracker, a 64GB microSDHC memory card and USB 3.0 reader, as well as a military-grade backpack,  completes the package.
The Phantom 4 Executive Kit by Drone World is a bit pricey, considering that prices start at $2,619. You may visit Drone World's official website to know more about the drone's features and bundle deals.
About Drone World
Drone World is the Web's preferred destination for consumer and professional unmanned aerial drones, kits, and accessories. The company combines superior customer service and know-how with more than 5 years of drone experience and 10 years of sales and services. Specializing in custom DJI Phantom bundle kits, their list of products include the highly popular DJI Phantom 3 kit, the OSMO kit, the Inspire 1 kit, the newly released DJI Phantom 4 kit, as well as the DJI Phantom 4 bundle.
Watch the videos below
Let us help you. We'd be delighted to answer any tracking questions you have or discuss the options in more details.