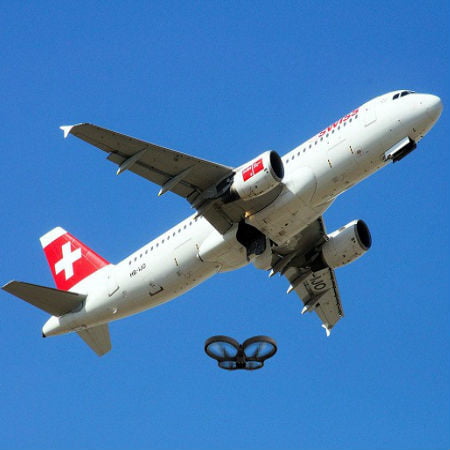 As widely reported that a drone hit a British airplane, British government has come out with statement to debunk reports. The said drone-aircraft 'collision' did not happen, allegedly.
Following a newly released information about this, airline passengers can now calm down and relax.
Investigators from Britain said there was never a collision, contrary to what the plane's pilot reported that a drone collided with the plane while they were landing at the London's Heathrow Airport on April 18. The plane didn't suffer any kind of damage and nobody on-board sustained any injury.
Drone-Aircraft 'Collision' Did Not Happen
Scroll down for video
Patrick McLoughlin, the United Kingdom's secretary of transport, said on Thursday that the incident "was not a drone incident," as reported by BBC. His comments came after an investigation had been launched by the Air Accidents Investigation Branch to study the mishap. The Air Accidents Investigation Branch, which investigates airplane accidents in the United Kingdom, had said that it closed its investigation into the incident due to a lack of evidence, according to a report on Thursday by The Guardian. Hence, the alleged drone-aircraft 'collision' did not happen.
On a side note, they would've known if the drone really collided with the plane if they mounted a real-time GPS tracker to the drone.
Prior to the official findings last week, the United Kingdom's minister of state for transport, Robert Goodwill, told government members that the pilot may have wrongly identified the object that hit the plane. "There is indeed some speculation it may have been even a plastic bag or something," Goodwill said. "The pilot has a lot of other things to concentrate on [when landing] so we're not quite sure what they saw."
About a month before findings from the investigation about the Heathrow Airport incident were revealed, a pilot in France said he saw a drone fly close to his airliner while approaching for landing in Paris.
The Federal Aviation Administration released a report in March, which said that almost 600 drones flew dangerously close to both airplanes and airports during a period between August 22, 2015, and January 31, 2016. The rate at which such things happen is believed to be on the increase as popularity of drones increase.
The Academy of Model Aeronautics, an aviation advocacy group that helped the FAA create a national drone registration system, talked down some of the ominous warnings of danger. It examined the FAA's latest drone sighting report and claimed that not all of these hundreds of sightings constituted a "close call."
Watch the video below
Let us help you. We'd be delighted to answer any tracking questions you have or discuss the options in more details