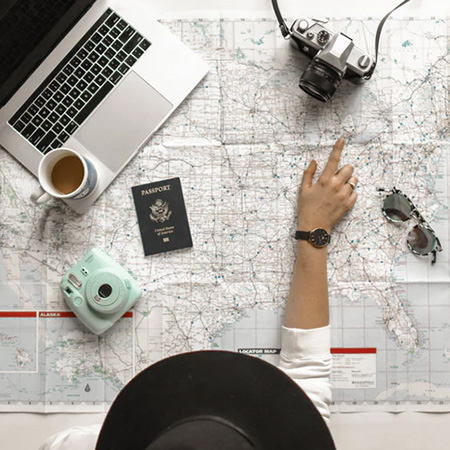 So you've booked your tickets, purchased a GPS tracker, and started counting the days to the big trip. But is your travel itinerary secure and safe for you? Are you sure you won't be wasting time and money once you get there? Are you ready for things to go wrong?
Face it, getting lost is no fun and may lead to a potentially dangerous situation. Remember, no matter where you go, the world is littering with tourist traps and serious crimes. And losing your way means having to spend a considerable period finding your way back, leaving you with not enough time to actually enjoy. It takes out all the fun out of your entire vacation.
This is why it always pays to plan ahead. Learn road trip tips and create a detailed travel itinerary for your own sake.
Tips for Creating the Perfect Travel Itinerary
Planning a travel itinerary sounds like a lot of work for some, which is probably why people skip this step. But there are so many things that need to be organized when you book a trip. Other than reserving a hotel room and renting a car, you also need to pick out and schedule activities for sightseeing. If you're traveling on a budget, then you'll need to manage your expenses too. Creating a travel itinerary allows you estimate the travel cost beforehand.
But how do you create the perfect travel itinerary? Below are tips for creating the ideal travel itinerary for the best adventure you could ever have!
1. Write a wish list.
Everyone has a reason for visiting a country. For example, you could be heading to Barcelona because you've fallen in love with the Gaudi architecture all over this Catalan city. Or you booked a trip to Croatia since you've always wanted to visit the set of Game of Thrones. Whatever your reason for booking a trip is, make sure you actually know where you want to go. Write a wish list and the reason for visiting every stop.
Once you're done, start narrowing down the list by following the next step.
Scroll down for videos
2. Set up a route and schedule.
Be realistic. There's no way you can visit all the tourist spots in your intended destination especially if you have a limited vacation time. So to make the most of your visit, circle the destinations on your map and connect them in geographical order. This helps you estimate how long it will take to get to each place, as well as how long you should spend time for each activity you plan to sign on. To help you with this, refer to online resources or guidebooks. You may also talk to other travelers to gain a better perspective of your trip.
3. There is so much more than Google.
Google may be a helpful tool when it comes to itinerary planning, but it isn't the only tool. With the way its search engine algorithm is set up, you'll see pretty much the same results that everyone else who searches "things to do in los angeles" gets. Thus, you'll end up doing what every other tourist is doing. Instead, check the city's tourism website to begin in-depth research. You may also try turning to a guidebook or checking the local newspaper for interesting events once you arrive.
4. Important: include details!
Traveling to multiple cities? Or maybe you're about to venture on a long journey to a large metropolis? To ease your worries about traveling time and fare expenses, all you have to do is research. Refrain from putting cost over convenience and focus on what works best for your itinerary.
Give yourself a heads-up when it comes to getting around, picking the best place to stay in, or knowing which people to trust. What are the best neighborhoods and the ones you should avoid? Is there a medical center in the city, just in case? When it comes to accommodation, how are the reviews? How do you get around there? What will public transportation like? Do you need to rent a car? Are there only certain kinds of taxis you should take? Does the situation change at night? If you need to take any trains or buses from place to place, it's also helpful to have station addresses and schedules on hand so you don't have to look them up each time.
The business hours, address, and cost of any sites or activities on your itinerary are also worth noting. Are the crucial sights open on the day you'll be in town? Are the weather conditions good? Do the sights you come to visit follow a "first come first serve" basis?
5. Check for festivals or holidays.
If you love a good party and being surrounded by a million of your newest best friends, planning a trip around a festival or holiday is a great way to mingle with locals and experience the culture of a city or country. But if crowds aren't your thing, it's helpful to know when certain destinations are best avoided. Major holidays can mean crowded airports and long traffic jams, so you'll want to do your research and plan accordingly.
6. Schedule breaks.
If you do happen to be the type of person who overplans, try scheduling breaks into your itinerary. You have to give yourself permission to slow down on vacation. Don't try to see and do everything in one trip if it means you'll be running from place to place and attraction to attraction, getting minimal sleep, and not spending quality time exploring and relaxing. Factor in a bit of extra time for a nap or a sleep in. This will give you a good balance of seeing and relaxing.
You're going on a vacation to unwind and feel refreshed, not to add more stress and disappointment.
7. Organize your travel essentials.
Your travel essentials include airline tickets, hotel/Airbnb booking, rental car confirmation, and other transaction receipts for the reservations you've made. Sometimes, they can be quite overwhelming to keep track of. Fortunately, to make things easier for you, there are apps like TripIt that automatically create a master itinerary on your behalf based on the confirmation emails from the transactions you did. All you have to do is send every email you get from those reservations and purchases, and they'll create a plan for you. You can then access these plans using your smartphone, even without the need of Internet connection. Aside from this, always keep front and back copies of your credit cards and IDs saved to cloud storage like Google Drive, Dropbox, Apple Wallet, or Google Pay.
8. Be flexible.
You may have crafted the best itinerary, but certain things can still go wrong. Landmarks will be closed, roads are suddenly under maintenance, you get sick because of the food you ate, or flights get canceled. To make up for this, schedule a free day in your itinerary to leave room for more activities just in case things won't go as planned. If you aren't quite sure where to go, you can always check your GPS device. Tracking devices like Trackimo offer real-time location information, as well as access to hundreds of city maps around the world. Having a flexible itinerary gives you a chance to immerse yourself in hidden gems every place you visit has to offer.
Conclusion
It is highly recommended that you study guidebooks, use travel technology like a travel app, and other online tools to help you stay up to date.
If you ever get stuck while planning your itinerary, look up some travel blog articles about your chosen destination. There's a good chance someone else has already been there and written a detailed account of what they did, saw, and ate. Happy planning!
Watch the videos below
Let us help you. We'd be delighted to answer any tracking questions you have or discuss the options in more details.