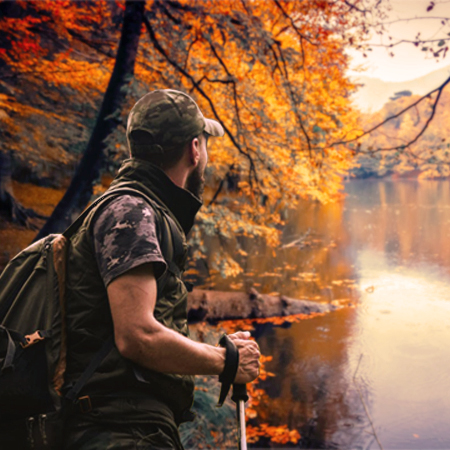 Campfires, candles, coffee, cuddles, cinnamon, the crisp air, crunchy leaves, and pumpkin patches—many of us actually have a soft spot for this season over the other three. Besides that, hikers love the fall season for its colors and thinning crowds. The bugs are gone, so there probably isn't a prettier time of year in the mountains than this one. Fall is the time to pack your bags and gear, leave the city, and catch the views. The summer haze is gone, and the warm colors are upon us. 
But like any type of recreation, hiking in autumn carries risks with it. Before you plan your autumn camping trip, always ensure your safety with preparation and caution. Besides vibrant fall color, autumn in the mountains brings shorter days, colder nights, and quickly changing weather. These volatile conditions can make even a simple day hike more risky than your average summer excursion. When hiking in the fall, pack some extra caution into your backpack.
Autumn Facts Hikers Must Remember for Safer Adventures
Slippery foliage
Studies show that falling is the most dangerous thing that can happen to hikers. And while autumn foliage looks pleasant to the eyes, these lovely leaves are also fairly dangerous. They say that autumn is a second spring when every leaf is a flower, but these scenic "flowers" bring several new slip, trip, and fall hazards with them. As the moist leaves blanket the forest floor, you won't be able to see the roots, rocks, and groundhog dens beneath them. It's like putting sheets onto a bed of nails. To avoid unexpected falls, physical conditioning and trekking poles are key. Also, be more mindful of hiking pole placement and probe the area ahead of time, especially on steep slopes where a fall could be catastrophic.
Unpredictable weather
Autumn is a tricky season with a wide range of weather possibilities. You could find yourself enjoying a sunny hike and later a wintery one. Knowing your hiking day's weather is essential for hiking preparations. If you encounter foul weather or treacherous conditions, it's a good idea to leave the hike for another day when you can return with proper snow traveling equipment and a competent awareness of avalanche danger. If you think you'll be running into snow, bring some trekking poles at the very least. The National Weather Service's Mountain Forecast is an excellent source for mountain forecasts. Visit the website before embarking on a trip.
Snowy spots
Never forget to check for the latest trail conditions. You never know if the trail you'll take is covered in snow. Many trails this time of year will be bursting with fall colors, while others may be under a foot of snow. If you're not familiar with your local area, chat with a ranger and get recommendations for best hikes in your area or find a regional hiking blog. Note that as autumn goes on, temperature levels will continue to drop. You don't want to end up climbing icy summits and trudging through paths in deep snow, do you? So check for recent trip reports from other hikers to confirm your chosen trail is snow-free. And always call local ranger stations ahead for conditions. Try slipping microspikes over your boots to combat icy trails and keep your balance. You can also learn how to improvise a pair of snowshoes just in case.
Shorter daylight hours
In the summer, you can hike in the light until after 9:00 p.m. In the fall, however, the views are much more beautiful, but the days are also shorter. As the earth moves from the autumnal equinox to the winter solstice, the sun starts to set much earlier. Although this means wildlife activity begins earlier, it's easy to lose track of time during an autumn hike because of the scenery and then forget that the way back is devoid of light. Make sure you take a flashlight or headlamp on your hikes, even if you don't think you'll be out after dark. In order to make sure you reach your destination before dark, head out early and keep an eye on the time.
Hunting season
Autumn is hunting season, and each year hunters come out to pursue elk, deer, and other game. This means hikers should take precautions. Hunters and backpackers can easily coexist on the same lands, but you have to be mindful of hunting practices. Not only does this present the need for extra safety precautions, but this also brings about temporary trail closures and reroutes in certain areas. Avoid hiking in popular hunting areas especially during the first few days of autumn, so obtain a schedule of when seasons begin and end from your state or provincial wildlife management agency. When hiking anywhere in hunting season, wear high-visibility orange clothing or other neon colors so hunters with poor eyesight can see you.
Ticks
Though mosquitoes and black flies have retreated until next spring and deer ticks are only active in the summer, adult ticks are very active in October and November. Protect yourself from adult ticks by avoiding overgrown areas. Make sure you pair your warm clothing with long pants to avoid being bitten. You may also take the extra step of treating your clothing with permethrin. This kills ticks upon contact and lasts through many washes. And don't just stop there. Apply insect repellent to your skin as well and do a tick check when you get back.
Hiking Essentials for Autumn Explorers
First assembled in the 1930s by the Mountaineers, a nonprofit outdoor community of 14,000 active members in the Pacific Northwest, these ten essentials have evolved over the years into a list of functional systems rather than individual items. The list has helped people prepare for emergency situations during hiking trips. Back then, the list included a map, compass, sunglasses and sunscreen, extra clothing, a headlamp/flashlight, first-aid supplies, a fire starter, matches, knife, and extra food.
Today, the 10 essentials include the following: 
1. Navigation
Navigation tools normally include five essentials for exploring the backcountry: a map, compass, GPS tracker, and a personal locator beacon (PLB). Indeed, GPS devices like Trackimo's slim travel tracker can easily replace all of these for your backpacking convenience, but old-school navigation tools do not rely on battery power and/or a network connection. 
2. Illumination
Autumn days are shorter. Your phone has a flashlight, yes, but remember that you're already using up your phone's power for almost everything: GPS, hiking apps, contacts, photos, and entertainment. So pack up on the LED lights, rechargeable headlamps, flashlights, and/or lanterns. 
3. Sun protection
Yes, you can get sunburned even in the middle of autumn. It may be colder, but the sun is still out. Pack with you sunscreen, lip balm, sunglasses, and sun-protection clothing.
4. First-aid and hygiene
There is a whole bunch of small injuries and ailments that can make your day miserable. You can order preassembled first-aid kits for hikers online, but if you prefer gathering your own supplies, be sure to know what to pack. Also, since you're exploring the great outdoors, expect to be dirty. Aside from first-aid supplies, hygiene essentials are as important for hikers. 
5. Tools
You'll find that a small gear repair kit can solve most of your hiking problems, and the more remote you are, the more important your kit becomes. Knives are especially handy, and so are multitools.
6. Fire
Many people prefer a disposable butane lighter. Matches are also suitable so long as they are waterproof or stored in a waterproof container. Fire starters, on the other hand, help you jump-start a fire and are indispensable in wet conditions. 
7. Shelter
In case you get stranded or injured on the autumn trail, any type of emergency shelter to protect you from wind and rain will help you stay safe. Options include an ultralight tarp, a bivvy sack, an emergency space blanket, or even a large plastic trash bag. 
8. Nutrition
The average hiker should consume at least 200 calories per hour. Depending on your body weight, metabolism, and exertion level, you may need more or less food. For a day trip, pack perishable foods such as sandwiches. Just be sure you have a cold source (like an ice pack) to keep food properly chilled. If you're camping, bring ready-to-eat cereals, canned goods, and instant food or mixes.
9. Hydration
Even if the autumn does not make you sweat as much, water is still the vital ingredient to life and you should consume it in plenty when you're doing something active like hiking. Before setting out, prehydrate by drinking at least 4 cups of water so you have less to carry. It gives your body a head start on the fluids you'll lose, and it means you'll be carrying less weight on your back. Then get into the habit of sipping often throughout the day instead.
10. Insulation
Autumn conditions can suddenly turn wet, windy, or chilly, or a major injury can result in an unplanned night out. It's necessary to be prepared for anything that could come your way. Carry extra clothes like long underwear, an extra hat, a balaclava, extra pair of heavy socks, and an extra pair of mittens.
Conclusion
As beautiful as this season is, fall can still be a challenging time to hike or camp. From slippery leaves and disease-spreading ticks to potentially being mistaken by a hunter for a deer, it's necessary to know what lies in wait when hitting the trails in autumn. Have fun!
Watch the video below
Let us help you. We'd be delighted to answer any tracking questions you have or discuss the options in more details