Get real-time tracking on all of your vehicles
Make money-saving decisions at a glance. Get peace of mind by knowing where your vehicles are at anytime, anywhere worldwide with Trackimo® GPS delivery tracking.
Order Trackimo Now
Why should high-end and luxury car sales use GPS tracking?
Reference tracking in the auction as one of the added benefits.
Make car auctions more attractive to buyers.
Differentiate yourself from your competitors.
Appear in the auction as an added gift for car owner to always know where their car is in the future.
Give car buyer peace of mind and anticipation of tracking the approaching new car delivery.
Be sure of the exact location of the delivery and assure clients that their orders are going to arrive on time.
If car deliveries are running late, then monitor if they are stuck in traffic or are lost or stolen with the app from the palm of your hand.
Keep your delivery drivers on schedule, not wasting time taking long stops.
Prevent theft and ensure the safety of the delivered car.
Get ahead of problems. Get alerted when your shipment is not on target for delivery.
Share the login with customers or team, so they can also check the tracker's current location.
Trackimo™ is the smarter way to manage your delivery vehicles.
One Main Administration Account
This allows multiple users to access the same account with the ability to store up to 1 year of historical data per vehicle.
Multiple device tracking
Add, view, and edit  Points of Interest and landmarks in one screen.
Worldwide Coverage
Trackimo™ GPS delivery tracking devices can be tracked via web or smartphone app where 3G GSM cellular reception exists worldwide.
Detailed Reporting
Generate reports to record time and movement.
Geofence Alerts
Set zones or geofences that send alerts when Trackimo enters or exits perimeter.
Real time tracking
GPS and GSM provide real-time tracking of your instrument via Web, iOS, and/or Android app.
Order Trackimo™ Today &
Save $100.09 + Free Shipping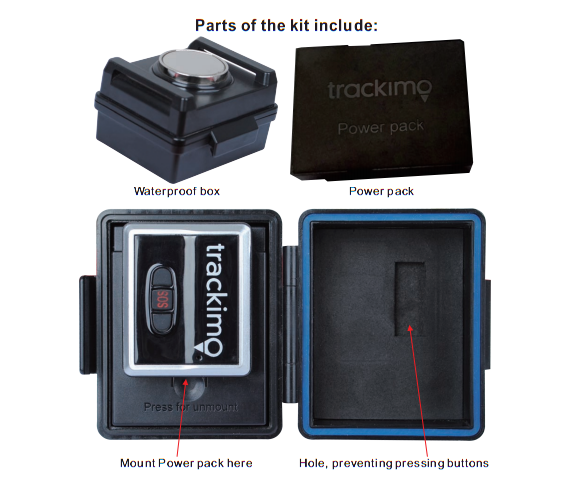 Trackimo® – Revolutionary patented GPS/GSM/Wi-Fi/BT Hybrid 3G tracker working worldwide out-of-the-box.
What's in the box:
Trackimo 3G Universal
1 Worldwide SIM Card included
1 Rechargeable battery (600mAh)
USB Charging Cable
Lanyard
Attachment kits
Also available: Magnetic Waterproof box that can house the Trackimo GPS tracking device with a power pack battery of 3500mAh (replacing the included 600mAh) basically 6 times battery life (up to 21 days). Battery can last up to one year in battery save mode.
Order Trackimo Now
Contact Us
Start Tracking Your Fleet in 2 Easy Steps
Trackimo comes with Free GSM service for the first year, saving you the hassle of finding a provider. SIM card is included and the device works out of the box. No Credit Card needed for activation, simply a valid email address.
Step 1 Activate your Trackimo GPS delivery tracking device by registering the device on our website
Step 2 Attach Trackimo GPS delivery tracking device to your vehicle with our specially designed easy-to-use accessories.
In 5 minutes, your GPS delivery tracking device is active and you can have peace of mind, knowing that you can track your assets 24/7.