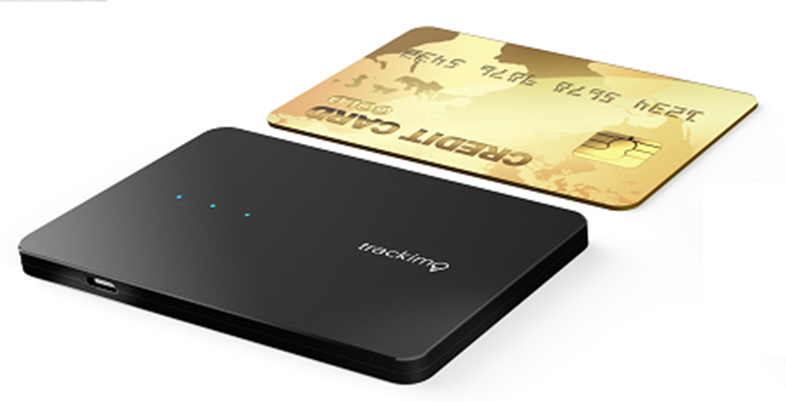 Trackimo 3G Travel Tracker with Light Detector
This super smooth, credit card size and ultra slim personal GPS tracker conveniently fits into valuables, wallet, bags, mailing packages or anything you want to track, locally or worldwide.
Benefits
Track down the location and the movement path of shipments and packages with 1-minute u.dates so you're always up-to-date and in-the-know.
Never worry about the location or contents in your bags when you are traveling, giving you peace-of-mind.
Get an immediate alert if someone opens your luggage, purse or package, by the unique light exposure sensor, ensuring you always know your belongings are safe.
Works outdoor with GPS worldwide and indoor with worldwide Wi-Fi tracking.
Bluetooth tracking for the final 30 feet (10 meters)
Get move alert if someone touches or move your bag or suitcase unexpectedly.
The slim, waterproof design with shape and same size of a credit card fits easily into your luggage, purse or package
Know immediately if your bag or package has crossed a boundary of an area which you define (geo-fencing)
Ensure it always has power with the USB charging option
Free Android and iPhone APPS
Description
With the Trackimo 3G Travel Tracker, you never have to worry about your belongings while they're in travel again. Once you have it set up, all you need to do is place it on top of everything in your luggage, purse or package and you're good to go. It has the same great features as the Trackimo 3G Universal tracker but in a slim, waterproof design and an added unique light exposure sensor. As soon as light hits the device, the sensor will trigger alerts that can be sent via email, SMS and app push-messages so you know if your valuables have been opened, allowing you to take action. When it comes to keeping track of your belongings, the Trackimo 3G Travel Tracker is the total package. You can track the whereabouts of your suitcase while traveling or the progress of your shipment till it arrives and opened in it's final destination. Especially good for tracking expensive shipments such as jewelry, art items, drugs, cars and more.
Tech specs
Network bands: GSM 850 / GSM 900 / DCS 1800 / PCS1900, WCDMA 850/900/1900/2100
Battery: 750 mAh Lithium-ion
Battery Life: up to 5 days
Update Rate: up to 1 per minute
Wi-Fi: 802.11g
Bluetooth: BLE V4.0
Travel History Available: Up to 365 days
Interface: PC, Mac, Android, iOS
Alerts: Email, SMS, app push-messages
USB Charger: 4-points magnetic charger with USB Interface
Waterproof: IP65
Operating Temperature: -20 to +60 degrees C
Box Contents
Trackimo 3G Travel Tracker Device
Built-in SIM card
Magnetic USB charging cable
User guide