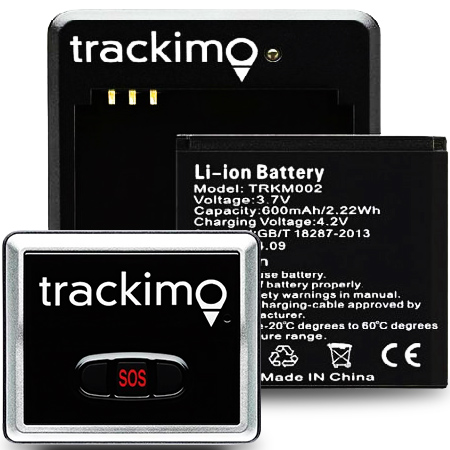 Trackimo GPS Tracker
Trackimo is the worlds best personal tracker at the most affordable price.
Benefits
Trackimo devices can be tracked via web or smartphone app anywhere GSM cellular reception exists
Using our free software or app, you can track Trackimo using your computer or Smartphone
Receive alerts by text, email and app notifications for emergency events, safety zone breaches, speed thresholds exceeded, or when Trackimo starts moving
Peace of mind–all tracking information is available only to you: we value your privacy and security
With one press of the SOS button, the location can be broadcast via app notification, email or text
Real Time Tracking–GPS and GSM connections provide instant, highly accurate current location and history plus keep history for up to 5 years showing complete device path history
Trackimo can be used for a variety of applications such as tracking your car, drone, truck, boat, ATV, snowmobile, pets, children, luggage, valuables, and more. The applications are endless!
Trackimo offers the lowest annual service cost of any consumer tracking device worldwide
Small, discreet and lightweight weighing in at only 1.4 ounces
Feel at ease with long battery life that lasts up to 96 hours
Trackimo comes with a silicon cover to make it water resistant
Trackimo is a powerful, low-cost device that will give you peace of mind
Description
Trackimo is the worlds best personal tracker at the most affordable price. Easily keep track of everything that's important to you – your young children, your dog, your car, elderly family members and every object that might get lost or stolen. With Trackimo you can view the location of anyone/anything, anywhere, anytime. Trackimo's unique system was designed to be highly informative and user friendly. It allows tracking the real time location of your devices, or check the history log of the device with an easily customizable time range.
Tech specs
Network Band: Quad GSM 850 / GSM 900 / DCS 1800 / PCS 1900
Update rate: once per minute
Battery: 600 mAH lithium-ion battery
Battery Activity Time: 48-96 hours. 1 month in battery save mode (6x update/day)
Trackimo Vehicle/Marine Power Supply/Charger
Input voltage range: 8V – 35V
Can be "hard wired" to a car 12V plus and minus supply line
Including safety fuse to protect the car and the device
Total wires length: 2 meters
Output: 5V / 3A micro USB connector
Box Contents
Trackimo
Trackimo Vehicle/Marine Power Supply/Charger Kit
Silicone Cover
Extra Battery Cover with Velcro
Lanyard
Screwdriver