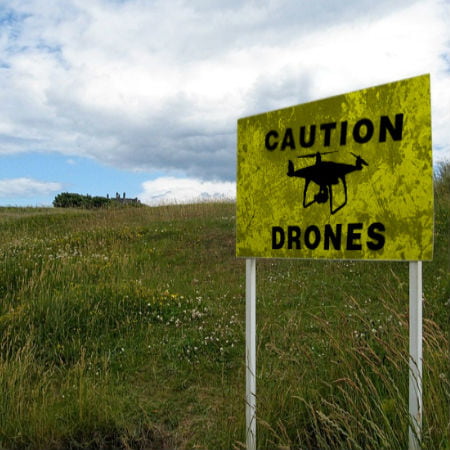 In a span of two years, the drone industry has grown 167 percent year-on-year, resulting in a revenue of $1.7 billion in 2015. Indeed it's a big bucks business, but drones come with them some serious safety concerns; drones risk public safety. In fact, there has been a lot of drone-related accidents reported. For instance, a drone traveling at 40 miles per hour may just out of nowhere suddenly crash into the head of someone strolling in the park, which can cause serious injury or, worse, death.
Scroll down for video
So the question is, what happens if an off-the-shelf drone kills someone, accidentally or otherwise?
Drones Risk Public Safety with Careless Hands
Even if majority of drone users are sensible and responsible, the threat by drones when controlled by careless hands is very real. Many cases of drones' near misses of people have been seen, and they have caused several significant injuries too. For example, last year, in Worcestershire, a toddler lost an eye after being hit by a drone flown by a friend of the family.
Drones are really causing headaches while in the sky. Between April and October 2015, there were twenty-three instances when drones almost hit passenger jets in British airspace—compared to only 12 from July 2013 to July 2014, claims the UK Airprox Board (UKAB).

What the Law Says About the Use of Drones
The Civil Aviation Authority, which controls all aviation in the UK, recommends that people fly their UAV within line-of-sight of their two eyes. Users can't exceed 400 ft vertically or 500 m horizontally, and going beyond that requires permission from the CAA. Violating this rule can lead to prosecution and a hefty fine.

The Drone Sentences
According to Kim Holden, partner at Manchester-based criminal law firm Burton Copeland, an operator of a drone that is involved in a fatality will be arrested and convicted for involuntary manslaughter, if their carelessness leads to the death of someone. The sentences range from a few months to life imprisonment.
On a side note, they should probably require mounting a drone GPS tracker so that they may monitor drones rigorously and prevent public risks.
"The maximum sentence for involuntary manslaughter is life imprisonment, but sentences are very far ranging. The most common type of involuntary manslaughter, which comes before the courts, is single punch manslaughter, which has attracted sentences as low as 12 months imprisonment," she explains.

The Political Aspect
Cases of a drone killing someone end up getting submitted to the Crown Court, leading havoc for lawmakers and the drone industry. Certainly, there would be pressure for the government to rush in new laws or probably place a ban. And this might impact the booming consumer drone industry, as restrictions may likely come into place and people may not want to buy drones anymore
Holden explains further, "The decision for such an incident to see the inside of a Crown Court would be extremely politically motivated. If such a case were to come before the criminal courts it would have a negative effect on the booming consumer drone industry."
In conclusion, regardless of the benefits they bring, drones remain a current concern. Drones risk public safety and public health. While more and more laws and regulations are being put in place to monitor their uses so that they don't harm anyone, it's more likely that drone-related injuries are more likely to increase over the coming years as their popularity grows.
Watch the video below