Homeless people wander the streets in many big cities, but whether there is a stigma or a lack of empathy for them, many don't acknowledge their presence any longer.
There are different reasons for people wandering the streets: unfortunate fate, the notion of the poor getting poorer, different kinds of mental illnesses—and even degenerative diseases like Alzheimer's or dementia.
It is a common problem for people with Alzheimer's to end up getting lost. They tend to do so when they are wandering in places and get caught up in episodes where their brain seems to wipe their current slate clean. While their loved ones try to keep them safe, they don't always have control.
Stories that come with taking care of these patients don't give loved one peace of mind either. While many can get lost but are eventually found, there are those who wander and end up missing. Some even seem to vanish without a trace. This crisis is growing, which means people have to be more proactive in keeping up with the elderly.
Truth About the Number of Wandering, and Missing Alzheimer's Patients
Scroll down for video
Hellen Cook
Darolyn, whose mother has been diagnosed with Alzheimer's, said, "There should be more awareness. When a patient is diagnosed, a doctor's office should be more proactive in sharing information about the available resources. We had no idea until my mother went missing."
Her mother, a 72-year-old Hellen Cook, was diagnosed with Alzheimer's in 2009. Her symptoms gradually worsened and she started having difficulty speaking. Then she started wandering and eventually went missing. She was last seen on July 13, 2015, in Warsaw, Missouri, a small city about 100 miles southeast of Kansas City.
Hellen and her husband, Howard, were at their second home in Benton County when she disappeared. Howard said that his wife was sitting on the porch when he put his lawn mower away, but when he returned, she was gone. Multiple search parties proved the search futile.
Beth Kallmyer, vice president of constituent services at the Alzheimer's Association said, "These things can happen any given time. All it takes is a caregiver who's working really hard, to turn around for a second and the person can wander."
Porch Swings and Alzheimer's
The increasing number of missing-persons cases can sometimes be attributed to wandering Alzheimer's patients. Because the disease is common but still without a cure, there is a possibility that it could reach epidemic proportions by the year 2050—an older population will mean more chances of the disease affecting a larger number of the population.
Alzheimer's disease is the most common form of dementia. It is gradual, unbeatable, and ultimately fatal. As many as one in 9 people older than 65 can be affected by it, and according to the Alzheimer's Association, more than 6 out every 10 people afflicted by eating have the tendency to wander—and some of them were never found.
Project Jason & Project Far from Home
The growing number of missing persons is not lost on those who are committed to raising awareness about the disease. The founder of Project Jason, Kelly Murphy, shared, "I've seen a steady increase in our own cases in the past five years."
Project Jason offers resources for families of missing persons and has already successfully organized efforts to pass a legislation. The organization started in 2001 when Murphy's son Jason went missing—and he still is.
There are around 125,000 search-and-rescue missions every year that deploy teams in the search for missing Alzheimer's patients. Kimberly Kelly, founder of Project Far from Home, an education program for law enforcement and search and rescue personnel, said that these numbers look conservative because not every case is reported to authorities.
Kelly shared that with 70 percent of the 5.5 million Alzheimer's patients tending to wander, there are still as many as 3 million people a day who could just get up and walk away at any given day in the year. Many families are not educated enough about the disease, which could be dangerous for the patients themselves.
Kenneth Lawson
When Patricia Bryan's 76-year-old father went missing on June 6, Kenneth Lawson was in his home in Union Point, Georgia. The family called for exhaustive missing-persons searches, but none of which were successful.
"We have had no leads on the whereabouts of my father. He was not always in a state of confusion. He would have moments where he would check out or not know where he was, but this was not all the time," she shared. "Up till my father went missing, I didn't realize just how many people with dementia and Alzheimer's went missing on a daily basis. The media does not do them justice."
Statistics
The odds of finding missing persons decrease with every passing day, and for people who suffer from different kinds of impairment, like Alzheimer's, for instance, the odds become worse.
Alzheimer's patients don't wander for no particular reason. Few of them have hallucinations, and many of them think they are going somewhere, looking for something. Most of them don't consider themselves lost, so they don't reach out for help.
In Virginia, around 46 percent of patients who are not found within 24 hours are found dead. In Nova Scotia, the number rises to 70 percent. In California, it translates to death, as there have never been anyone found alive after the critical period.
The problem will not stop anytime soon either. Unless a cure is found, the number of Alzheimer's patients will continue to grow and an estimated 16.5 million will be affected by the year 2050.
Amanda Burstein of the Alzheimer's Initiatives for the International Association of Chiefs of Police, said, "In the next 20 years, it's going to bloom because of the baby boomer population. That, in tandem with people using alert system's, we'll be seeing it more and it will be happening more because there are more of us at risk for it."
Government Efforts
The Obama administration has dedicated funds to help fight against Alzheimer's to prevent and hopefully treat the disease by 2025. There is no way to tell at this point whether or not the president's initiative will be successful, but better education for families of these patients and better information dissemination for law enforcement members can help improve response in these dire situations.
"If someone does go missing, you need to call 911 immediately. It's not a situation where you wait 24 hours, because they are vulnerable and can't necessarily find their way home or take care of themselves." Kallmyer said. "It's always an emergency."
Silver Alert and Notification Systems
There are 32 states in the United States that have some sort of notification system for missing seniors with Alzheimer's disease, dementia, and other illnesses that can hinder them from returning home to their families. The guidelines are on a state-to-state basis, but despite pushing for each state to have their own version of this "Silver Alert," there have been others who opposed such move, some of the members of abducted children's groups.
Kallmyer noted, "They are afraid that equipment would be utilized for Silver Alerts and the [public's] attention would be diluted for Amber Alerts. The problem with that is that we're starting to see even more cases where you have an elderly grandparent who has custody of grandchildren. You see cases where grandma is going to take a baby for a walk and doesn't come back."
The southeast regional director of the National Missing and Unidentified Persons System, J. Todd Matthews, said that there is already an increase of missing-persons cases in general. He emphasized that knowledge is key regarding the degenerative disease.
"I think we will be very wise to put great thought into this issue as soon as possible. The population is growing and so will this issue without efforts to prevent it," Matthews shared. "Awareness is the first step. It's an investment in our own potential future. How would you want to be treated if it were you? It very well might be one day."
GPS and Tracking
With the lack of resources for tracking wandering seniors, families cannot rely on response teams and the government alone. There is something that can be done right in your own home.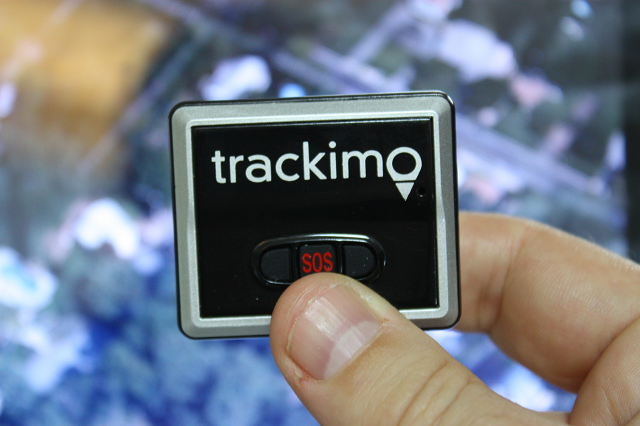 GPS devices like Trackimo, for instance, have smart alerts that can send texts, e-mails, and app notifications for emergency events like when someone crosses a safety zone or speed thresholds and even sudden movements.
These devices can also be tracked anywhere worldwide as long as there is a 2G GSM cellphone reception. There is even an SOS button that can broadcast the wearer's location via one of the alert notifications and real-time tracking.
With these GPS devices, loved ones can finally have peace of mind that even though loved ones have a tendency to wander, they can be found—with the help of Trackimo and a smartphone.
Trackimo's affordable service cost also makes sure that keeping track of elderly loved ones doesn't have to cost too much, which is why investing in this tracking device will be perfect to ensuring that you can keep your elderly loved ones safe.
Watch the videos below