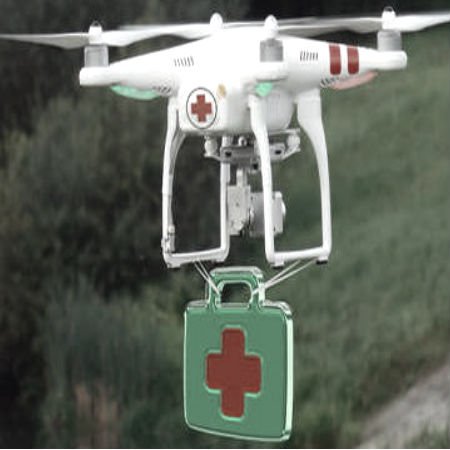 Long before apps came into market, Domino's made a vow to deliver pizzas within 30 minutes, but the delivery programs were facing too many accidents in their quest to hit the 30-minute deadline, so they stopped.
If UPS will be able to do it right, then we may soon get anything delivered to our door within 30 minutes. Logistic and shipping giant UPS announced that they are investing $800,000 in Zipline, which is a robotics and drone delivery organization that started working with the government of Rwanda to deliver medical supplies to hard-to-reach hospitals.
UPS Partners with Zipline and How Drones Help People in Poor Countries
Scroll down for video
Zipline is also partnering with Gavi, an international partnership aimed with a goal to immunize people in poorest countries. They will deliver medical supplies, vaccines, and blood to hospitals around Rwanda. UPS and Zipline are planning to deliver supplies to 21 clinics later this year.
At a press conference, CEO of Zipline, Rinaudo, said that roadways in Africa will become inaccessible or flooded at some point this year, and this will cut villages from lifesaving medicines, but drones don't need roads. And with this, Rinaudo said, "People don't wait to get sick in good weather conditions."
Drones can fly in almost any weather condition, and they can unload cargo when they are flying—a parachute can be connected with delivery. Drone don't require a lot of space for landing. Rinaudo said that they choose drones with fixed wings rather than helicopter types that Amazon is testing these days.
Fixed drones seem to fly faster and longer.
To use the services of Zipline, clinic or hospital staff will have to send text messages; and when it is confirmed, they will get a response containing the estimated time of delivery. When the drone reaches near the hospital, workers can go outside and pick up medicine. Rinaudo said, "A lot like Uber." It is expected that Zipline's drone will work with any phone, not just a particular company.
What We Can Expect from This Drone
The cost of delivery can be compared with something delivered on motorbike. UPS drones are expected to make 150 deliveries every day. UPS, which is a logistic giant, will provide Zipline all of its expertise. When asked about what expertise they are providing, representative Eduardo Martinez, said that this can be boiled down to "consultation."
If this program turns out successful, UPS and Zipline will expand their service to other countries. Most of the research conducted by Zipline is out of the bay area headquarter. Rinaudo explained that it works close with US Federal Aviation Administration. Zipline chooses Rwanda because it is an uncrowded airspace compared to the US.
After compiling data from this program in various countries, Zipline wants to present it to the FAA so that they can try something similar in the United States. This is possible if the project completes many flights without fail. Rinaudo explains, "The beautiful thing about logistics is that it's actually very boring."
There is no confirmation that UPS and Zipline will bring their systems to US. They are calling it railroad in the sky. If they are able to take this to US, they may end up being in competition with Amazon and Flirtey.
In the future, it is possible that we may just have to press few buttons of our cell phone and everything that we want will be brought to us in just 30 minutes—without putting single person's life at risk.
Watch the video below
Let us help you. We'd be delighted to answer any tracking questions you have or discuss the options in more details.