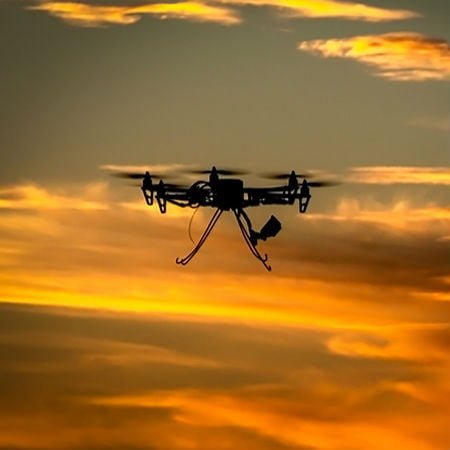 Hotel developer Mihir Wankawala admitted he was shocked when he clicked on the link a friend had sent him and ended up watching in astonishment a drone-shot video showing dozens of union protesters, the view rising to peer in the windows of the historic hotel property Wankawala was carefully refurbishing. The whole video, which the unions posted on YouTube, is ominously set to Rockwell's "Somebody's Watching Me."
Scroll down for video
"I guess they were trying to show their power," says Wankawala, who expressed he sought bids from union and non-union contractors and discovered that using solely organized labor would increase his costs by around 30 percent. "I'm the new kid on the block. This is my first project [in Philadelphia]. I think they were trying to send a message that you have to use union labor to get your project done."
Using unionism tactics of demands are not something new; for years, Philadelphia's construction unions have always used violence, vandalism, harassment, and intimidation to dominate the construction industry.
New Tactics: Union Members Strength Through Drones
The drone plan by the construction unions came to fulfillment under the leadership of Philadelphia's most powerful union boss, John "Johnny Doc" Dougherty. Apart from leading his home union, the International Brotherhood of Electrical Workers Local 98, he is also the head of the Philadelphia Building Trades Council, an organization representing nearly 40 construction unions in Philadelphia and its suburbs. The unions often come together, rallying to take on any builder who fails to yield to their demands.
The union Local 98 spent over $10,000 on three drones, a spokesman told the Philadelphia Inquirer, and the Building Trades Council also intends to buy at least one more.
Actually, the Philadelphia's builders are used to strong-arm tactics from construction unions, the drone video was version 2.0, signaling that Philadelphia's construction unions could go to any extent to invest in the most cutting-edge technology available to intimidate people who get in their way.
Local 98's spokesman declined Heat Street's request for an interview with Johnny Doc or other union leadership. The union, however, claimed online that it had bought the drones "to film [Local] 98's own picket lines and protests to protect the union from false claims against it."
The union's spokesman, Frank Keel, had earlier said the drones would be used to "identify unlicensed workers and in some instances, undocumented workers." He later retracted the same statement after the social-justice group Juntos accused him of racial profiling.
The drone incident actually showcases the extent to which union leaders are going to hold people who get in their way to ransom. The union might be denying the assumed intents, but previous actions of the union speak volume of the violent and unconventional ways of making their demands from their perceived enemies.
Watch the video below
Let us help you. We'd be delighted to answer any tracking questions you have or discuss the options in more details.