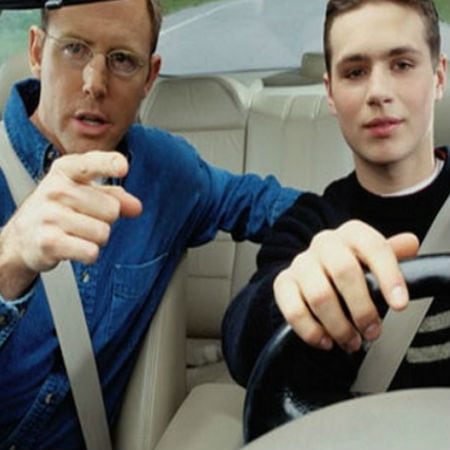 Teenagers get easily distracted nowadays, so it is important that you should remind them to keep safe especially when doing something as risky as driving. So check out some essential tips below on how to monitor your teen behind the wheel:
Scroll down for video
The good news is, those in the automobile business have been working with new ways to make driving safe for teenagers. Among the top ten cars safe for teens is the Jeep Renegade Latitude 4×4, which has great visibility and easy steering perfect for young drivers. Another is the Honda Accord LX Sedan, which you will most likely see on every list out there because of its reliable features such as forward-collision warning, lane-departure warning, and collision-mitigation braking.
But perhaps it is the 2016 Chevy Malibu that takes teen driving precautions pretty seriously. Teens cannot outsmart this vehicle with its Teen Driver Feature, which includes a volume limit with radio mute and a vehicle report card that parents can check every now and then.
What's great is that Chevrolet is planning to roll this out for its future lineups. They certainly know that teens could be the worst drivers out there due to their inexperience and tendency to wander off. The teen driver feature may be enough for a teenager to roll his eyes, but regardless of that, it is way better than having to risk their lives on the road.
So aside from spending on a car that has these kinds of features, here are other helpful tips on how to keep your teen safe below.
1. Get a GPS Tracker
3G GPS tracking device for teenage driving are perfect for monitoring on your teen. If they protest, saying that it violates their privacy, then you will need to state that GPS trackers are first and foremost built to ensure safety among family members. That way, you will find your teen in case they swerve off track. Remind them that you don't check the GPS tracker every minute and every second of the day just to snoop on their business, but you'll regularly check it out to know that they are safe.
A GPS device like Trackimo gives you real-time notifications on your teen's whereabouts and it comes with a mobile app to add your convenience.
2. Control texting while driving
Texting while driving is accountable for numerous road accidents. The uncontrollable urge to check on your phone after a notification can sometimes be unbearable, even for adults. Luckily, there are apps out there that won't distract you while driving and you can download them for iOS and Android.
Among these are DriveOff (Android), DriveMode (exclusive for AT&T customers with Android or Blackberry phones), and Canary (Android and iOS users). Canary has been the most impressive so far, since it gives parents an option to check if their children are checking their phones while on the road.
3. Get a dash cam
Dash cameras are perfect to really supervise your teen's driving skills. Also in case of an accident, dash cams show what happened frame by frame. There are also monitoring devices such as DriveCam, which has in-car camera technology that can be monitored by parents in real time.
Other systems available in the market actually monitor everything from seat belt, aggressive driving, and even perimeter restrictions (offered by Trackimo as well) for a monthly service fee.
Having a teen driver can be nerve-wracking at times, but a combination of trust and strict monitoring can ensure the safety of your children. Do your research on other ways you can keep teenagers safe when behind the wheel and find out what works best for you. Make sure these methods are openly discussed with your child to create a mutual understanding between the both of you.
Watch the video below