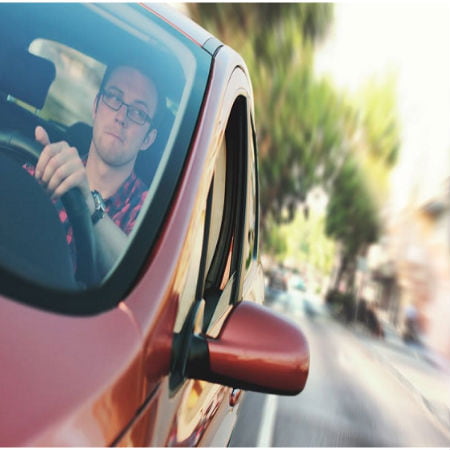 Everyone wants to think that teens are responsible drivers, but the truth is that they rarely are. Most statistics say that vehicle accidents usually happen with teens behind the wheel. Here are some teen-driving facts that you should know if you're thinking of giving your 16-year-old keys to your car.
Scroll down for video
Fatalities
The number one cause of death among teens in the United States are motor vehicle crashes.
The fatality rate for drivers aged 16 to 19 is four times than that of drivers aged 25 and above.
The crash fatality rate for a 100,000 population is highest for 16- to 17-year-olds within the first six months of getting their license. Unfortunately, this trend remains high through age 24.
The top three reasons for these fatalities include not using seat belts, teenage driving, and high speed limits.
Around two-thirds of teen passenger deaths between the ages 13 and 19 occur when other teenagers are driving
Crashes
Teens are almost 10 times more likely to be in a crash during their first year on the road.
20 percent of 11th graders report being in a crash as a driver in the last year.
25 percent of 9th graders report being in a crash as a passenger to a fellow teen driver in the last year.
Crash risk increases with each mile per hour that one drives over the speed limit.
There are available data on crashes involving 16-year-old drivers, and it showed that having multiple teenage passengers in the vehicle makes it twice as likely for a car to crash than it will in alcohol-impaired driving.
Crashes are more common among young drivers. In the United States, 1 in 4 crash fatalities involves someone aged 16 to 24 years old—about twice as high as other age groups
Parental Influence
66 percent of teens admit to caring about their parents' opinion on using mobile phones while driving.
56 percent of teens are taught by their parents to drive.
Distraction
Passengers also have to behave—90 percent of teens see passenger behavior as something distracting.
Speeding
Nearly half of teens report knowing of others encouraging drivers to speed from time to time.
Half of teen drivers report driving 10 miles over the speed limit at from time to time—at least.
Cellphone Use
Nine out of 10 teens said it is common to see teens driving while talking on a cell phone
Seat Belt Use
Teens have the lowest seat belt use rates of any age group, which makes it a deadly bad habit.
Only 65 percent of teens wear their seat belts consistently—as both a driver and passenger.
Six out of 10 drivers aged 16 to 20 killed in crashes were unrestrained.
Around two out of three teens killed as occupants of motor vehicles are unrestrained by their seat belts either.
Substance Abuse
Teens are actually likely than adults to get behind the wheel after drinking; however, we hear about teen drunk-driving more often because when they do drive under the influence, their risk of crashing is far greater than it is for adults.
53 percent of teens admitted to sometimes seeing substance use behind the wheel.
Watch the video below