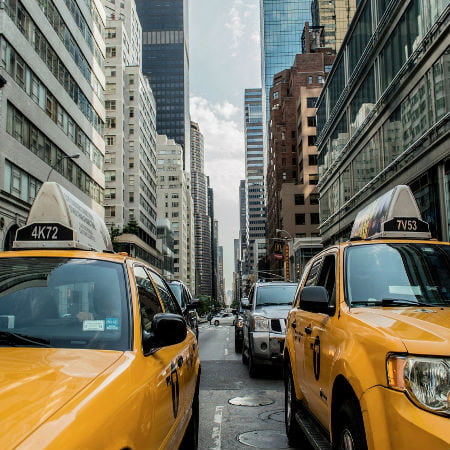 Never think that taxis are not important just because you regularly take the subway and bus to get around big cities like New York City, Los Angeles, or Chicago. When you're in a hurry and your usual mode of a transportation system is not available, taxis can save your day. In New York City alone, there are about 10,000 taxi cabs daily moving around the metropolis. It's obvious that the number will only increase as time passes. Operating a fleet of taxi cabs in such a dense area is a taxi fleet management nightmare. But that was before business owners started utilizing Taxi Fleet Management GPS System.
By using the Taxi Fleet Management GPS System, a fleet manager is practically connected to the fleet, enabling them to control and manage the fleet virtually. If your vehicles are installed with GPS devices, taxi fleet management operations will be smoother, operating expenses are reduced, and that will increase the business profit margin.
Scroll down for videos
The role of Taxi Fleet Management GPS System
The importance of taxi cabs is undeniable. Many people depend on them to travel from one place to another. Without efficient taxi fleet management, it would be chaotic. Hence, top taxi companies tapped the GPS technology to help them improve their taxi fleet management. Among the important benefits of tracking vehicles are the following:
Recover asset faster—if ever a taxi driver gets caught in a hold-up situation or the cab gets stolen, the GPS tracker can provide data the law enforcement can use to pursue the perpetrators. The GPS device makes vehicle recovery so much easier and faster.
Avoid traffic jam—by checking the GPS real-time mapping, the cab driver can avoid getting stuck in a traffic jam. The dispatcher can easily inform the driver ahead of the traffic situation and send them to an alternative route. This will save you both time and money, especially on fuel expenses.
Record data history—GPS tracking data of a vehicle are automatically saved and the record can stay there for  a longer time. The data can be used for audit purposes in case the cab owner decides to review the route taken by the cab within a specific period.
GPS devices have long been used for vehicle tracking and fleet management by businesses in the transportation industry. Have your vehicles fitted with GPS tracking devices now and enjoy its benefits just like the rest for a better Taxi Fleet Management GPS System and boost your taxicab business.
Watch the videos below
Let us help you. We'd be delighted to answer any tracking questions you have or discuss the options in more details.