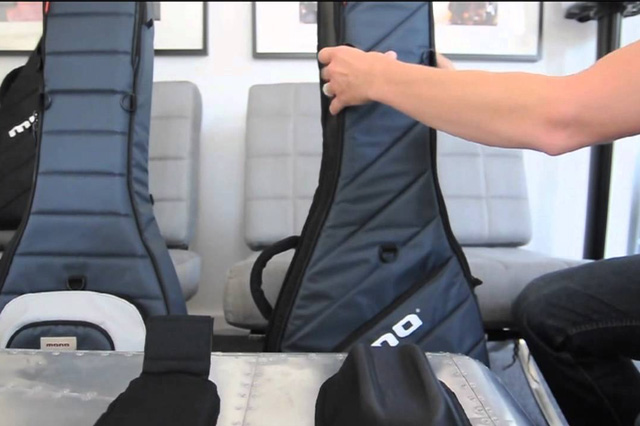 Wearing a backward baseball cap, Zachary De Pue stands on the tarmac about to board the US Airways Express. He stands there practicing the prelude to the Partita No. 3 in E by JS Bach on his 250-year-old violin.
De Pue claims that Bach would be upset. He is the concertmaster at the Indianapolis Symphony Orchestra. Fellow violinist Nicolas Kendall filmed a video that went viral. In the video, De Pue is disallowed to board the flight on the way to Fayetteville, Arkansas, with his rare violin. He and his band, Time for Three, were scheduled to play in Arkansas.
Since 2007, De Pue has been the concertmaster at the Indianapolis Symphony. He was told by a flight attendant that the violin needed to be checked in and placed in the cargo hold because it would not fit in the overhead compartment. The two violinists were able to board an American Airlines flight later with their instruments.
Scroll down for videos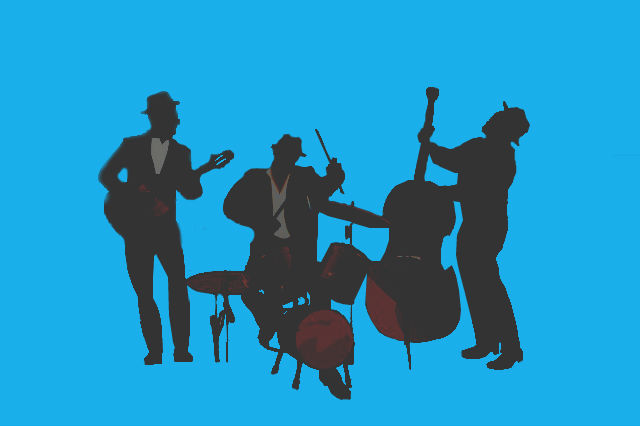 The Transportation Department has issued a new rule that will help all traveling musicians when they board flights with valuable and fragile instruments. Airlines will now be required to treat these instruments like they would a regular passenger's carry-on bag.
The legislative director of the American Federation of Musicians, Alfonso Pollard, says, "Airlines have in their policies that they accept these instruments, but then once the musician gets ready to board the plane, they're sometimes told there is not enough space." So the musician is forced to check in an instrument that is fragile and can be damaged very easily. This was the main reason behind lobbying for change in the rules. In the United States, there are about 127,000 employed musicians and 5.8 million school-age musicians.
The new rule says that if the instrument complies with the federal and airline policies for carry-on bags, then it must be given the same treatment as any other passenger bag. That means that if you can stow your guitar in the overhead compartment, the flight attendants are not allowed to remove it and ask you to check it in "even if the space taken by the musical instrument could accommodate one or more other carry-on bags."
If it is a huge instrument like a tuba, that is a different story. It's the musicians that travel with their smaller stringed instruments that do not want to hand them over to a baggage handler. Many musicians have complained about the treatment they receive when bringing their instruments on board a flight. Flight attendants oftentimes insist on their instruments being checked in, which increases the risk of the item being damaged.
Pollard further explains, "Nobody's going to be able to take a Stradivarius on a flight if they have to put it in cargo. The new rule should work and will likely reduce the amount of back-and-forth and arguments between musicians and flight attendants and pilots about whether or not they can bring their instruments on the aircraft."
Part of the initiative for negotiating the new rule came from the union leaders of the Nashville Symphony Orchestra. One time the concert mistress of the orchestra was flying to Carnegie Hall in 2000, she was carrying a Stradivarius violin and the flight attendant attempted to remove the instrument from her hand and forced her to have it gate-checked.
These battles over what is allowed to stay in the overhead bin are becoming more common since more people bring carry-on luggage aboard after airlines have started to charge for checked bags.
Guitars also have their own share of carry-on battles. Canadian musician Dave Carroll even released a protest song and video titled "United Breaks Guitars." On a flight with his band members, Carroll had to check in his valuable guitar, but when they arrived at their destination, the guitar was badly damaged. United Airlines apologized, but Carroll decided to make a music video and song about his experience. He now has a career as a speaker on customer service.
The new rule will require that flight attendants learn how to deal with instruments. Many flight attendants dislike having to deal with overhead storage disputes. Sydney Pearl, a flight attendant with 20 years experience, says, "It's such a headache. We fly to Nashville, so there are instruments galore. It's always a chore because some guitars take up an entire bin. Sometimes we have to gate-check those instruments, unfortunately." She did emphasize that a majority of baggage handlers treat instruments with care.
Zachary De Pue also added that "most flight attendants and pilots usually make an effort to find overhead space for it when you tell them you have a violin."
Musicians who travel a lot have learned how to manage their instrument woes. Some purchase Early Bird boarding so they have a good spot and are able to sit in the compartment directly below their instrument.
Musicians who travel with larger instruments like cellos need to purchase an extra seat. A cello cannot fit into an overhead bin so they just have to sit next to their precious instruments. Among other hurdles musician organizations have to deal with is international endangered species laws. Violin bows that are older can be decorated with ivory or certain instruments can be made of a hardwood that is deemed endangered. These organizations are trying to find a way to be exempted from such laws.
For cases like this where you have to closely monitor an item, investing in a GPS tracker like Trackimo would be a smart choice. GPS gadgets give you information on where the item is exactly and how it was handled. Protect your rare and valuable musical instruments by fitting it with a GPS tracking device.
Watch the videos below