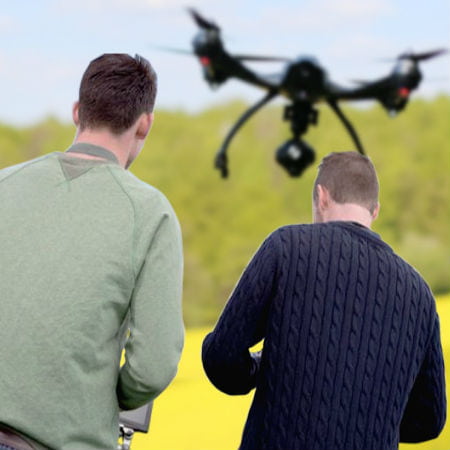 Start-ups using GPS drones is the newest trend lately. It only cemented the fact that GPS drones have come a long way since its inception. When it was first introduced to the world, it was simply a secret military device that became a lure for hobbyists.
It has become so popular that the number of start-ups using GPS drones for their businesses is rapidly increasing.
Ryan Jenson, the mind behind the pet project HoneyComb, says that GPS drones are used to survey agricultural fields, for irrigation, pests, and other farm-related problems. It is important for them to spot this kind of problems early on to avoid extra expense for farmers.
Scroll down for video
Start-Ups Using GPS Drones: How It Came to Be
All the same, farmers find it hard to digest why farm workers need GPS-guided drones, not to mention they can hardly afford it.
Jenson explained that it takes farmers several hours to up to a few days to scout large acres of land for problems, but using HoneyComb's Agdrone, the process can be shortened considerably. Agdrone can survey 700 acres of land per hour, producing high quality 2-D and 3-D maps, which farmers can utilize to evaluate the health of their crop.
The farmers can watch from a screen while the unmanned aerial vehicle hovers above the field. In addition, once the drone returns, they can look at the photographs taken by it while on flight.
Jenson has been interested in aerospace and engineering since he was young. He entered college at 14, and by 18, he was already working for NASA.
The farmers, after realizing that HoneyComb's AgDrone can make their job easier, were convinced.
AgDrone has already gained a number of believers, one was able to save $100,000 worth of crop after discovering irrigation leak. Another grower was also able to save his crop when AgDrone spotted the early stage of blight in his potatoes, allowing him to treat and save his plants.
The Oregon-based company, which has already 16 employees, is one of the start-ups using GPS drones. Companies such as HoneyComb often offer drone services. They are like a one-stop shops, they provide the drone to collect data and the software, which will analyze the collected data.
The Obstacles of Start-Ups Using GPS Drones
Lisa Ellman, a partner and Washington-based co-chairwoman of the unmanned aircraft systems practice at the law firm Hogan Lovells says, GPS-controlled commercial drones have many uses including emergency response, news-gathering, and construction monitoring among others.
Though possibilities are vast for start-ups using GPS drones, it also has its challenges due to the changes or rather, newly created laws for unmanned aircraft systems. The regulations could make these companies, particularly the small ones, hard to put up their business without external help.
Thankfully, the Federal Aviation Administration (FAA) started issuing permit exemptions for commercial drone operators. Most of the issued permits were given to big companies particularly those involved in the fields of photography, film, and real estate. But the biggest problem for most small businesses is that, after getting a drone permit, they still need to get a license to fly it, which calls for additional cost.
Because of this, many drone owners don't bother acquiring a license to fly. But new FAA rules for commercial drones that weigh 55 pound or less will deal with this issue. They decided to lessen the number of requirements for manned vehicle license. This means, the process that usually takes months to complete will be finished in just weeks. This will ease the problems that drone operators face. That being said, the sales of commercial drones are expected to hit 600,000 this year and reach 2.7 million by 2020.
In the meantime, the agency is targeting drone operators who are flying without permits. Those who will be caught will be fined. Last year, SkyPan International, an aerial photography company in Chicago, was fined $1.9 million for flying in New York and Chicago airspace without authorization. SkyPan is believed to have violated FAA rule that prohibits flying within 5 miles of an airport and above 400 feet from the ground, although SkyPan said that they had followed the regulations set.
The stricter laws for drones rooted from the increasing number of incidents involving drones. In September last year, a flyaway drone crash-landed at the U.S. Open tennis tournament in Queens. A month later, another drone crashed near the White House. Incidents such as these raise public concerns on the enforcement of rules for drone owners.
Some start-ups using GPS drones like the Pittsburgh-based Identified Technologies have employed experts to prevent those kind of issues. they use drones to create 3D maps of their construction sites so their clients can monitor the building progress and identify problems early on. For this venture, Identified Technologies has raised $4 million. The company hired two employees who previously worked with commercial airlines to help their clients obtain FAA exemption, find pilots, obtain insurance for drones, and complete necessary paperwork.
Skyward, another one of those start-ups using GPS drones based in Oregon, provides support to drone operators so they can meet necessary regulatory and insurance requirements through their software that can identify time and location where it is considered safe to fly. Skyward's founder, Jonathan Evans, was a medical helicopters and Blackhawk pilot. They also offer tracking services for companies who wish to know who is flying a specific drone at a specific time and place. They can provide a report with the all the information needed by regulators and insurance providers.
If these issues are addressed the right way, it could open more opportunities for new businesses. Lisa Ellman of Hogan Lovells says that drones are similar to when cellphone was first invented, its uses were not immediately foreseen.
Ellman and Gretchen West founded the Commercial Drone Alliance, a nonprofit organization that helps educate both regulators and the general public about commercial drones.
In December 2015, the FAA noted that 300,000 drone owners have registered. These people could join the new wave of start-ups using drones, if they decided to make money with their drones.
Watch the videos below