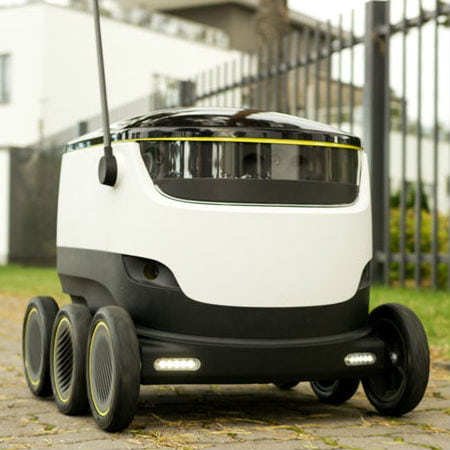 Starships Technologies has created a self-driving delivery bot and started testing the models in London. By spring, they are expected to start testing in New York.
Skype co-founders Ahti Heinla and Janus Friis invented the robots, and they have high hopes their machine will pique the interest of small businesses that might want to send small amounts of goods (up to 9 kg) of goods to local customers.
Scroll down for video
Self-Driving Delivery Bot Introduced in London
It has no name yet, but senior adviser at Starship, Keith Cornell, told MailOnline, "We may hold a contest, and they may have multiple names. They might have personalities of their own."
Starship's bot is quite different from robots that are designed to resemble humans in that they have large compartment to hold deliveries up to the size of two grocery bags. The point is for consumers to call for a self-driving delivery bot that can take their requests to their door within five to 30 minutes for as low as 60 cents.
Each of the ground drones, which have six wheels, can drive themselves, but to start with, to an extent will be controlled by humans. It is always connected to the Internet, and with 3G technology, it can locate the customer's address.
"Walking" on the pavement at about 4 mph (3 kph), robots can complete local deliveries within five to 30 minutes from a local hub or retail outlet.
Starship also claims the cost of the scheme of the self-driving deliver bot is between ten and fifteen times lower than the present delivery options. Mr. Cornell said, "Trials will be in 14 cities, if we get permission from councils. It's the last 2 per cent that's expensive."
He confirmed the firm is building relationships with popular retail partners, but they are not announcing them now.
"Demand is not an issue," he continued. "The robot is designed to make life easier, so people might still go to the shops to buy flowers, for example, but could use them to carry heavy items such as potatoes home. Integrated navigation and obstacle avoidance software enable the robots to steer clear of pedestrians or to jump over kerbs and cobbles, for example."
However, should the need arise, such as an emergency, there will be human operators ready to jump in. For example, if a thief tries to steal the robot, the human operator can send police to the bot's location. There are also nine cameras on the drone to capture the criminal's face in situations like this.
The trunk of the self-driving delivery bot, which carries packages, is usually sealed, and only the customer can open it upon using a specific app. The app also makes it possible for the customer to track the bot in real time. One of the advantages of the bot is the battery-powered bot's zero direct CO2 emission.
"Our vision revolves around three zeroes—zero cost, zero waiting time, and zero environmental impact," said Heinla, boss at Starship Technologies. "We want to do to local deliveries what Skype did to telecommunications."
"With e-commerce continuing to grow consumers, expect to have more convenient options for delivery—but at a cost that suits them," Heinla said. "The last few miles often amount to the majority of the total delivery cost."
Watch the video below