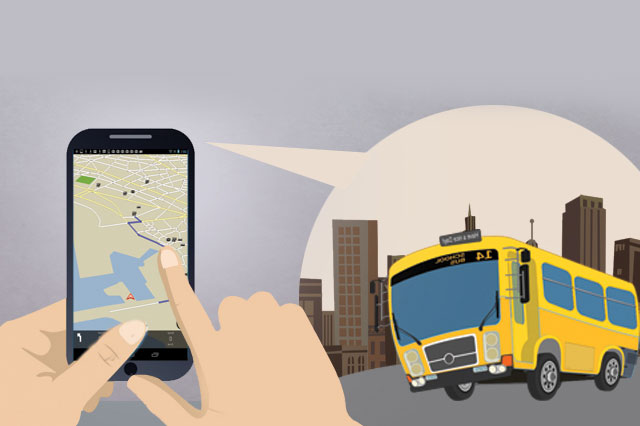 School buses are now being pressured to provide safe and reliable services to school children and their parents, but they are also expected to run efficiently and provide for a profitable return for the fleet companies that contracted them.
So how can fleet managers expect to achieve the objectives of a safe yet profitable, professionally run school bus fleet? As it is with any business, the use of the right tools is necessary.
Scroll down for video
Safety
Tracking school buses in real time is essential so that parents can be notified of the actual arrival time of buses, minimizing waiting time for children, which in turn lessens the time they are exposed to bad weather and other possible dangers.
Setting up alerts is also possible, which means that fleet managers can get messages the instant buses leave their route or enter a no-go zone. Best of all, it also gives alerts for when the drivers engage in unsafe-driving—a priority considering that they are transporting children.
Cost-Savings
Monitoring bus driving patterns ensures that drivers operate their vehicles efficiently. This means that managers can detect if there are drivers idling unnecessarily or keep track of which of their drivers are not following traffic laws. GPS tracking devices like Trackimo are also considered as anti-theft devices, which means that fleet owners can save on insurance premiums from their insurance companies.
Time
Avoid time-consuming manual collection of fleet activity as needed by the state in compliance with CSA 2010. GPS tracking information is made readily available, which saves on time and minimizes errors both by the drivers and fleet managers alike.
Better Maintenance
The regularity and timeliness of maintenance is good for tracking vehicles. Knowing in advance when the bus is due minimizes downtime and unwanted breakdowns, which means that it gives sufficient time to schedule substitute buses as well. Accurate mileage tracking also has  better warranty recovery, which saves more on costs.
Environmental Accountability
By optimizing routing and keeping track of engine idling, you can minimize the impact in the environment and lessen emission of pollutants, overall reducing your carbon footprint. Environmentally friendly fleets are good for shareholders, parents, and even the DOE and OPT (Office of Pupil Transportation), making your fleet the likely choice for many.
Tender Successfully
GPS tracking does not only make a school bus fleet more profitable, it also benefits students, parents, and even government agencies. By highlighting their benefits, school bus companies can tender service more successfully.
Solve school bus company problems with GPS tracking
GPS tracking can solve problems faced by modern school bus companies and can help improve their services. For instance, those who manage school bus fleets can revolutionize how you manage and market your business. GPS tracking devices are not expenses as they are investments; in fact, more often than not, fleets can recover the cost of installing the devices within 120 days!
Watch the video below