Compared to bicycle theft, not many people think about the growing number of stolen motorcycles. But recent statistics should give you enough reason to worry. The latest figures provided by the National Insurance Crime Bureau (NICB) show that there are as many as 46,467 stolen motorbikes in 2016 alone. Bike thievery, on the other hand, is down 30% compared to the numbers 10 years ago. Majority of motorcycle theft occur during the summer months in the United States, particularly in urban areas like Los Angeles and New York. Honda motorcycles are the favorite target of criminals. Now just because you don't feel like you're a part of the demographic doesn't mean that you won't fall victim to such crime. Thieves steal bikes from all sorts of people and in any given place. So you have to adopt effective ways to prevent motorcycle theft, save yourself and your treasured possession from being their next prey.
Prevent Motorcycle Theft with These Helpful Tips
To protect you and your assets from motorcycle theft incidents, follow the prevention tips below.
Motorcycle theft prevention
Park in secure areas. The more visible your bike is from where you stand, the better. The only downside is that not every parking area offers this kind of convenience. But you can always settle for places with enough light and corners with security cameras. This won't prevent bike theft, but it will give police a better description of the perpetrators.
Keep those keys away from the bike. Make it a practice to take your keys with you when you're away from the bike. The rule should be applied when you park your bike at home. Hang your keys somewhere secure and close to you.
Stop flashing those goods. Sure, you want to show off that new paint job you gave your bike, but you're really not doing yourself any favor by doing so. The less you publicize your bike, the lesser the possibility of you being their next victim. So put a cover on that Harley if you don't want thieves coming for it soon. If you have a vehicle, you can also use it to obstruct the view of potential criminals.
Scroll down for videos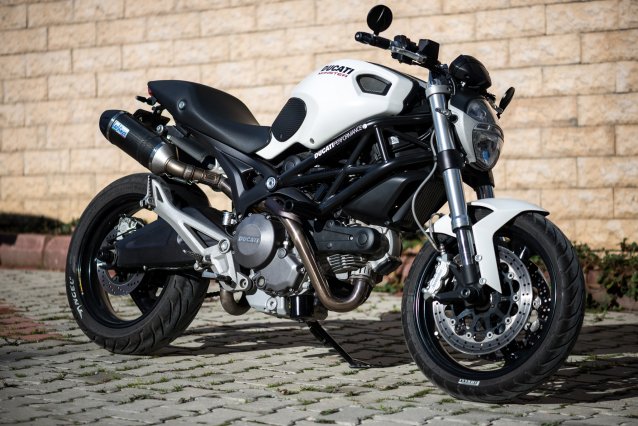 Customize your bike. You read that right, a customized bike keeps the thieves away. It may cost you some bucks, but by customizing your bike, you make it easily identifiable, something both professional and novice criminals steer clear from.
Increase the number of locks. Disc locks are conveniently sized and are lightweight. One good way to prevent motorcycle theft is to attach these locks to the wheel to prevent the bike from moving. The only downside is that determined thieves can always hoist the bike into a truck. To counter this, you can anchor it onto something more solid with a cable. Bikes kept inside garages should be locked in as well.
Anti-Motorcyle Theft Devices
Kill Switch
Most bikes are already pre-equipped with a kill switch to help render the engine inoperable. Of course, wise thieves may simply deactivate it on their own. If you've got the means and skill set, you can install your own kill switch in a spot that is hard to access.
GPS tracking device
GPS devices provide more than just location. GPS motorcycle trackers such as Trackimo have dedicated systems that alert you whenever it detects unauthorized movement from the bike. All you need to do is to set a virtual parameter with your device via the geo-fencing function. Trackimo utilizes global positioning system (GPS) and radio frequency identification (RFID) to set the geographical boundaries. Should the device cross these borders, an alert will be sent via email, text, or in-app notification.
Types of safety locks
Disc locks. Some disc locks are equipped with an alarm, and some aren't. To prevent motorcycle theft, go for ones with a built-in alarm. The alarm sounds of disc locks can go on whenever a cable is cut or when the unit is moved for as short as five seconds.
Cable locks. Take note that thieves sometimes carry equipment to cut through a cable lock. But by attaching it to stationary items like bike posts, you prevent your bike from being carried elsewhere.
Steering locks. Steering locks are good for keeping novice thieves away, but they might not be able to stop more experienced criminals.
Watch the videos below
Let us help you. We'd be delighted to answer any tracking questions you have or discuss the options in more details.