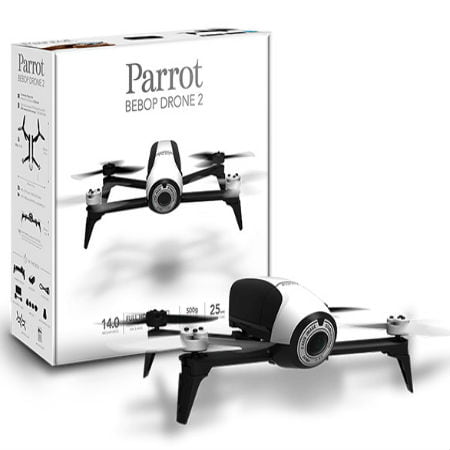 Drone enthusiasts know that there are more and more products introduced in the market each day. Parrot, a leading drone manufacturer, looks to demolish the competition by releasing the Parrot Bebop 2. Its predecessor has already reached new heights as it boasted one of the most advanced drone technologies, having a-180 degree fisheye lens that is capable of shooting 1080p HD videos, built-in GPS, and compatibility with the Oculus Rift VR headset.
Parrot was determined to take things to a whole new level with the Bebop 2. Not only do users get to enjoy a more stable model, but flight time has been extended to an impressive 25 minutes. On top of that, the Bebop 2 has a built-in 14 megapixel camera that is capable of taking the most stunning HD videos.
Parrot Bebop 2 Drone
Scroll down for video
According to Parrot, the Bebop is easy to use and is the perfect companion for beginners. The drone is equipped with a wide array of sensors that enable safe piloting. It ensures stability through the drone's onboard computer, which is connected to a number of built-in gyroscopes, stabilizers, and pressure sensors. The Bebop 2 has a GPS as well, which is perfect if you'd like to keep your drone on the air when line of sight is not possible.
In the first Bebop, Parrot introduced SkyController. If you may recall, this is a new product that can extend the range capabilities the drone. With the Bebop 2, Parrot revamped their drone, enhancing its remote control, and renamed it as the Parrot SkyController Black Edition. This allows pilots take full control of the drone with a two-joystick controller complete with video streaming through a smartphone or tablet. The FreeFlight 3 app can be downloaded through compatible iOS or Android devices.
Users can actually feel what it is like to be onboard the Bebop 2 with a separate FPV (First Personal View) glasses that are connected via HDMI port. The video streaming comes with telemetry information (distance, altitude, cape, horizon management), while a radar feature allows controllers to see exactly where the drone is.
Perhaps the biggest setback of the drone is the fact that there is no option for removable storage aside from its 8GB internal memory. Note that this can easily be used up especially when shooting at 1080p. Aside from that slight inconvenience, there is no doubt that the Bebop 2 will be Parrot's most popular model to date.
So this leaves us with the price point. Many people look for a drone with this much features at a price point of $500. The closest thing you'll get is the Parrot Bebop 2, which is reasonably priced at just $550 and may go lower over time.
If you are already a satisfied drone owner with another model, then you might want to upgrade it with a separate GPS device. Trackimo offers one of the lowest prices as far as GPS tracking devices go, and it is coupled with a $5 a month subscription fee.
To learn more about Trackimo and its essential features, visit their homepage.
Watch the videos below
Let us help you. We'd be delighted to answer any tracking questions you have or discuss the options in more details.