DJI is officially the largest commercial drone maker in the world, and as of now, the company has promised to release a certain kind of software that would prevent drones from being able to fly in all regions that have been dubbed no-fly zones no-fly zones across the US and Europe.
This new software update looks to enforce already established local laws for where drones are not allowed to fly and would help to ensure that these regulations as regards restricted areas are obeyed.
DJI Enforced No-Fly Zones Across the US and Europe
Scroll down for video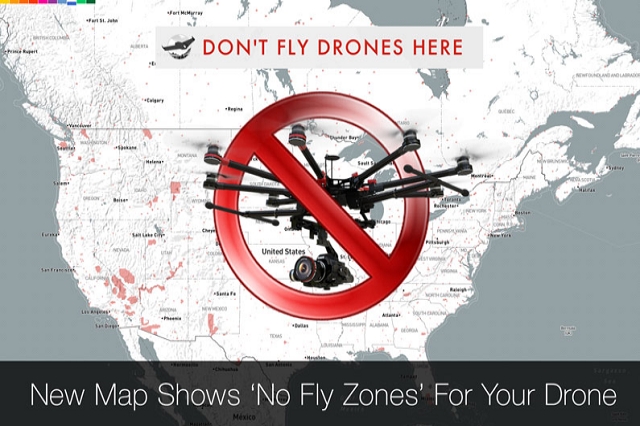 Implications of the Software Update
This software update means that these drones would no longer be able to take flight in areas where there are wildfires and will lose ability to fly around prisons, power plants, and also near venues where professional sporting events are being carried out. It also imposes restrictions on areas where the US president would be traveling to, giving a better state of security.
This would not be the first time that this Chinese company has used this kind of technology, having been in use for about two years now to prevent drones from flying close to the Tiananmen Square and various airports. The only difference now is that not only a selected few of DJI drones would have these restrictions in them but all of the drones manufactured under this outfit.
The practicality of this update is simply that as soon as this software gets installed in the drones, they would not be able to perform operation such as taking off, entering, or even landing into restricted zones. The software would also allow for update and refreshes on a frequent basis to inform the system of new areas where restrictions had been placed. This means that the software is dynamic and would be able to change with trends in its environs. This would prove to be most useful in the event of a natural disaster or sporting event.
The dynamism of the software also allows for user bypass in certain conditions, but then such users would first have to provide DJI with details relating to contact and payment for this bypass mode to launch. In areas that relate to national security such as the Washington, DC, the bypass would not work.

Geo-Fencing
It is interesting to know that it's not only DJI that's been working on the geo-fencing technology. Drone-manufacturing body 3DR has a similar one to that of DJI. With the advent of these geo-fencing techniques, much fears of people concerning the possibility of the use of drone for criminal acts will be allayed to an even much greater extent. To further protect the privacy of people, companies, including Chinese manufacturer DJI, are under surveillance from the US government.
Watch the video below
Let us help you. We'd be delighted to answer any tracking questions you have or discuss the options in more details.