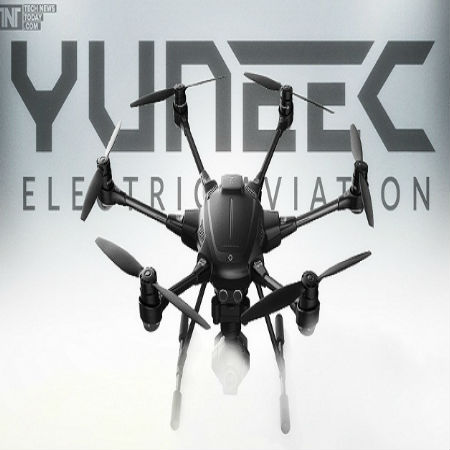 Chinese drone-maker DJI has been the industry pioneer when It comes to advancements in the drone industry. But rival drone maker Yuneec is giving them a run for their money with the announcement of their Typhoon H drone, which could be the biggest innovation in the drone industry since the Phantom 3.
The Typhoon H was announced recently. It is a small hexacopter with features like Position Hold, Return to Home, and Follow Me among others. But the stand-out feature on this drone is the Real Sense Technology.
Scroll down for video
Real Sense Technology in New Typhoon H Drone from Yuneec
Real Sense is not new. It is an obstacle-avoidance technology developed by Intel. At CES 2015, Intel gave a very impressive demo of the Real Sense Technology showing what it could do. During the live demo, a number of drones were made to fly using nothing but onboard cameras and the sensors on the drones. It was an amazing demonstration, but drones were not as popular as they are now. They were more expensive and quite clumsy and complicated for most consumers.
At CES 2016, Intel had another demonstration to give, but this time, it was the Typhoon H that was being demonstrated. They had a completely ready-to-fly drone navigating through trees while following a bike rider. The bad side was that the demo wasn't completely realistic. Tracking cameras were placed all over the stage so the drone had a precise stream of location data while flying. So it's possible that real sense technology wasn't used in the demo. It was a very good demo, though everyone was unsure of how real the demo was.
No official release date or price has been released for the Typhoon H, but it would be available before the end of the year and the price would be in the region of $1800 without the real sense technology.
Obstacle avoidance on a drone was something previously unimaginable, but with the announcement of the Typhoon H, this technology isn't far off and may be implemented in many more drones other than the Typhoon H. The DJI Phantom 4, which would be released around that period, will most likely come with this technology.
Watch the video below
Let us help you. We'd be delighted to answer any tracking questions you have or discuss the options in more details.