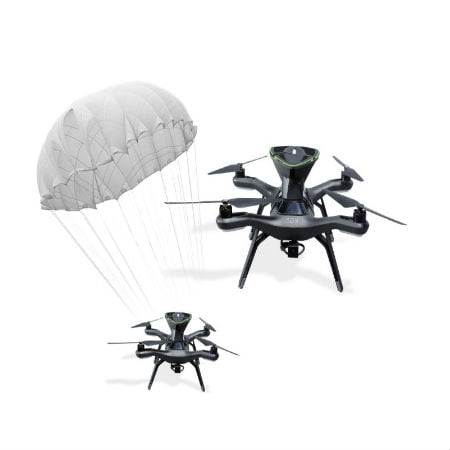 SafeAir: a newly introduced device that detects free-fall of drones and then deploys new drone parachute to safely recover them.
Yes – It's now possible to put away the fear and safety challenges associated with the use of the drone. The heartbreak, wallet-ache, and risk of physical injuries when consumer drones suddenly plummet from the skies mid-flight can now be a thing of the past.
SafeAir: Detects Free-fall and Deploys New Drone Parachute
Scroll down for video
Recently, at the Association for Unmanned Vehicle Systems International's XPONENTIAL conference, a tech company called ParaZero introduced SafeAir, a device that has the capacity to deploy parachutes to safely bring a falling drone back to earth, thereby allaying the fear and danger associated with such occurrence.
In order to be certain that the parachute set out in time to avert a crash at low altitudes, SafeAir will shoot out the chute with a gust of pressurized gas. The newly introduced device is attached to the top of a drone and utilizes an autonomously powered chip to perceive when the drone goes into freefall. According to the company's spokesperson, ParaZero had worked with several drone manufacturers to create recovery systems for their drones depending on how far it is safe for their drones to fall—including DJI (the makers of the popular Phantom consumer drone), professional photography drone maker 3D Robotics, and Martin Aviation—producers of the JetPack search and rescue small uncrewed aerial system (UAS).
Apart from SafeAir, ParaZero also produces pyrotechnic-deployed parachutes for larger drones, which has an airbag system for cinematic drones to protect cameras and other expensive gear during an unpowered landing.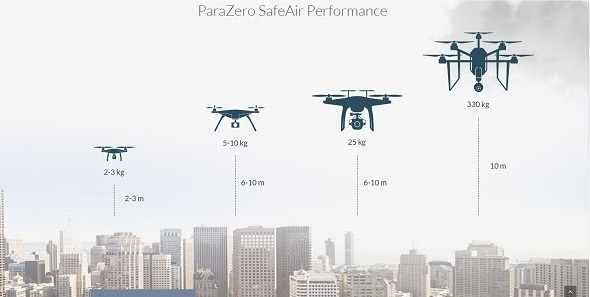 Drones could constitute a threat to lives and properties if preventive measures are not put in place. SafeAir helps to prevent avoidable damages to neighborhood roofs, properties and people in the case of a free-fall.
The device works by simply detecting free-fall of drones and consequently deployed parachutes to safely recover them and prevent them from falling on people.
Drones are becoming a major security issue in recent times; they are being used more frequently and with lesser safety measures. Attaching a SafeAir device may come handy it matter most as it comes with a new drone parachute. You may also attach a real-time GPS tracking device to monitor your drone's whereabouts.
However, there have been several campaigns that increased awareness by everyone is an essential part of preventing incidents before they happen. The SafeAir device will complement several safety rules and regulations in place to reduce the incidence of accidents arising from the use of the unmanned aircraft.
So, apart from being careful not to fly a drone recklessly or fly in a location may be a risk to the public or aviation, precautionary steps such as attaching a SafeAir device to the drones will save a lot of troubles.
Before flying a drone, it is pretty important to at least be sure of adequate awareness of the guidance and regulations regarding flying them. This will guarantee the safety and unnecessary intrusion.
Though the vast majority of drone users are sensible and responsible, the threat by drones when in careless hands is incredibly real. There have already been many times when drones have had increasing near misses with people, and numerous times when they've caused significant injury, too. Last year, in Worcestershire, a toddler lost an eye after being hit by a drone flown by a friend of the family. A device like SafeAir could have saved the situation.
Watch the video below