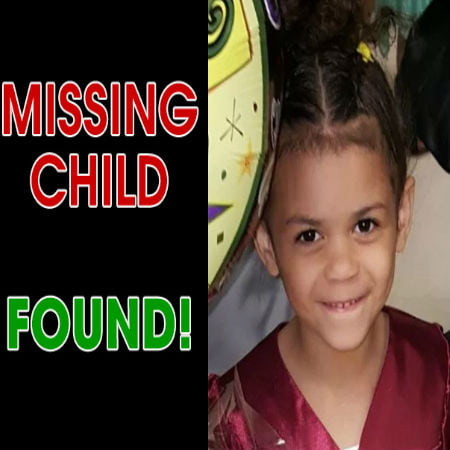 Cleveland police are now asking for the public's help in finding a white man whom they believed took six-year-old Nevaeh Wylie from her grandmother's home on West 104th Street.
Scroll down for video
Police were called to the 3000 block of West 104th Street, May 21, for a missing person investigation.
Nevaeh, who had last been seen around 4:00 a.m., was reported missing at 2:30 p.m.
Officers searched the neighborhood using canines and helicopters. The FBI also got involved.
At 9:30 p.m., officers received information that the girl had been found at a home several miles away in the 13800 block of Lyric Ave.
Nevaeh was taken to Rainbow Babies and Children's Hospital to be checked out.
After interviewing Nevaeh, the police shared that she was taken from a second-story unit in the home by the unidentified white male. Detectives spent a good part of the day going door to door and interviewing residents in the neighborhood where she went missing.
A police officer was still on patrol outside Nevaeh's grandmother's house on Monday morning, close to two days after she was found safe about 30 blocks away. Investigators said Nevaeh was dropped off on Lyric Avenue, where she rang the doorbell of a house. The people inside called the police.
Nevaeh's sister told Cleveland 19 on Sunday that Nevaeh told her family she was taken to a home where there were a lot of people after being abducted from her grandmother's home.
"She says he came in and he grabbed her and he says, 'Shut up,' and he held her mouth and he got in the truck with her. She told us this whole story. And he got in the truck and he told her to lay down on the dashboard. She says there was a whole bunch of people in the house, so he had to sneak her to his room," said Miracle Wolford.
The Department of Children and Family Services is also conducting an investigation regarding this case.
Police aren't revealing what they found out about what happened to Nevaeh while she was with the suspect.
One man who lives on West 104th Street said he'd been interviewed by detectives who wanted to know if he had seen anything suspicious at Nevaeh's grandmother's house the night before she disappeared.  They asked if he'd noticed a party.
He said he hadn't but that a lot of teenagers were known to spend time hanging out outside the home.
Crystal Cartwright said she knew Nevaeh's dad, whom she said must be upset by the whole situation. Until the case was completely solved, she told Cleveland 19 her kids were staying close.
"I just know something is not right down there that way with that story. Until the truth is out, my kids will not be anywhere near those children or any of these houses around the area," said Cartwright.
Watch the video below