Based on the 2015 motorcycle theft report of National Insurance Crime Bureau (NICB), an organization that tracks data, investigates, and promotes awareness on vehicle theft, the particular crime has increased compared from the previous year. Take a look at some of the interesting information gathered from the survey about motorcycle theft.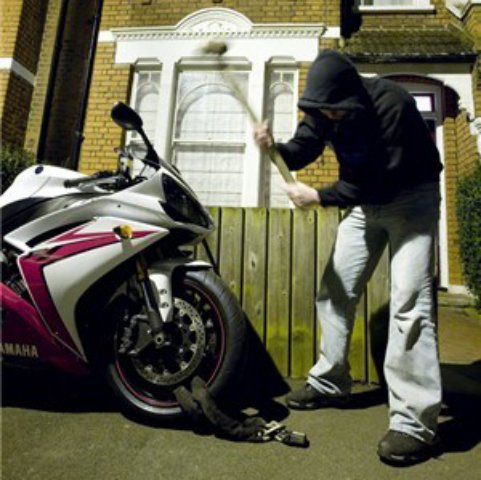 Motorcycle Theft Report Details
According to the motorcycle theft report, about 45,555 of motorcycle units were stolen in the United States in 2015. That's a 6 percent increase from 42,856 stolen units the previous year. The record shows that from 2006 to 2014, the statistics were already declining from 66,774 thefts in 2006 to just 43,000 in 2014—there was a good 36 percent drop during those years. But the numbers suddenly rose in 2015, although it is still better than the 2006 motorcycle theft record.
The report included not only the number of thefts for the year 2015 but also the top states where motorcycle theft is rampant, as well as the cities and favorite manufacturers of the thieves. Take a look at the details below.
On top of the list of states with the most vehicle thefts in 2015 are California with 7,221 thefts, followed by Florida with 4,758 thefts, and Texas with 3,403 thefts. Completing the top 10 were the following:
South Carolina with 2,160 thefts
New York with 1,902 thefts
North Carolina with 1.866 thefts
Nevada with 1,408 thefts
Georgia with 1,393 thefts
Indiana with 1,333 thefts
Virginia with 1,253 thefts
The top 10 cities in the United States with the highest occurrence of motorcycle thefts were the following:
New York City with 1,340 thefts
Las Vegas with 1,042 thefts
San Francisco with thefts
San Diego with 717 thefts
Miami with 713 thefts
Houston with 517 thefts
Los Angeles with 486 thefts
San Antonio with 431 thefts
Indianapolis with 375 thefts
Albuquerque with 373 thefts
If you notice, three of the 10 cities on the list were in California, that would explain why the state has the most number of incidents of motorcycle theft in the country. As for the vehicle manufacturers that are quite popular among robbers, they are the following:
American Honda Motor Co. Inc. with 8,674 units stolen
Yamaha Motor Corporation with 7,214 units stolen
American Suzuki Motor Corporation with 6,065 units stolen
Kawasaki Motors Corp. USA with 4,920 units stolen
Harley Davidson Inc. with 4,416 units stolen
Taotao Group Co. Ltd. with 2,757 units stolen
Other brands included in the list were Astronautical Bashan, KTM Sportmotorcycle AG, Kymco USA Inc., and Jonway Group Co., Ltd.
It was also mentioned in the 2015 motorcycle theft report of NICB that August and February are the most dangerous months of the year for motorcycle owners with 5,269 thefts and 2,093 thefts, respectively.
Don't be a victim of vehicle theft. Here are some tips on how to protect your motorcycle from thieves:
Cover your motorcycle to prevent robbers from checking out your ride
Use high-quality and sturdy lock mechanism to discourage thieves
Use GPS tracking devices to monitor your motorcycle and recover it easily in case it's stolen
Watch the videos below
Let us help you. We'd be delighted to answer any tracking questions you have or discuss the options in more details