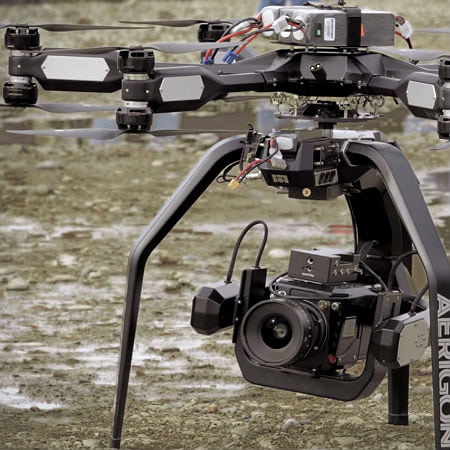 Brain Farm Cinema is used to pushing the boundaries of filmmaking. It continues to be one of the global leaders of producing high-quality videos and the most stunning footage you will ever see. So when the company teamed up with Swedish drone builder Intuitive Aerial, they wanted to make sure they would do something nobody has ever done before. Together, they came up with a very expensive 3-minute drone footage with a high-speed camera attached to it.
Scroll down for video
The camera's model is a Phantom Flex 4K, which weighs over 15 pounds and costs more than $110,000. As for the drone, it was reportedly an enhanced version of an Aerigon drone, which originally retails at $50,000. The final design comprised of six carbon fiber arms and twelve counter-rotating carbon fiber propellers.
With all this impressive technology bounded together, the hardware weighed a staggering 30 pounds. That is three times the weight of an average drone that houses a GoPro,which usually runs up to 88 grams.
Five Years in the Making
Curt Morgan, the CEO for Brain Farm Cinema, stated that this project was five years in the making. He started the company after he stopped pursuing a professional snowboarding career due to an injury. Brain Farm Cinema has now broken new ground in the field, but Morgan wanted to push the envelope even further.
The biggest issue he had to face was trying to find a drone that could house the Phantom 4K Flex, and he needed to assemble a team capable of shooting the footage next.
Morgan and his team had a large truck drive through huge puddles. The challenge was to make sure they didn't damage the device while the truck drove directly to the mud. The outcome was more than what they bargained for. The Flex 4K captured every single detail in a stunning slow-motion sequence.
Expensive 3-Minute Drone Footage
Looks like Brain Cinema's six-figure investment was put to good use. The insane 3-minute drone footage is enough to beat any professional drone video out there. It only proposes new possibilities for cinematic photography, and it's enough to prompt hobbyists to achieve something extraordinary themselves.
If you are into filming with drones, then you might want to take extra measures to keep your drone safe within your reach. Avoid losing your drone and keep track of your drones by attaching a GPS tracking device such as Trackimo. Trackimo allows users to monitor their drone's movement with their own smartphones or computer devices. Contact us now for more information.
Watch the video below