Unfortunately, many youngsters meet their untimely demise due to motor vehicular accidents. The issue is so widespread around the country that the month of January is dedicated to providing national awareness on the subject of teen driving. Despite January being months away, the Centers for Disease and Prevention (CDC) continues to remind everyone that teens between the ages 16 and 19 years old are most at risk for fatal car accidents. It just calls to show that taking extra steps to prevent an accident from happening in the first place is essential for both the teen driver and their parents. A possible solution here is monitoring young drivers with the use of car trackers.
But how exactly does monitoring young drivers using car tracking devices work? Are these tools enough to keep teenage drivers safe and save them from unwanted circumstances? Read on to know more.
Scroll down for video
Benefits of Monitoring Young Drivers Using Car Trackers
As teens grow, so do their responsibilities. This includes being given the privilege to drive, but with statistics of fatal car crashes hitting new stands every day, the idea of a teen taking the wheel may cause a sense of anxiety for their parents. Driving under the influence, reckless driving, and ignorance of the law are just some of the reasons installing a GPS device may be the proactive approach to keeping teens safe.
Trackimo is one of the leading car tracking devices for teen drivers. It is equipped with a number of essential features, which help in monitoring young drivers. These features include the following:
Driving reports (sudden break, turns, number of stops, customized speed threshold)
Track anywhere, anytime. Trackimo allows users to track down their GPS device from their smartphone, so parents may install the companion app on their mobile for easy tracking.
It has smart alerts through which users receive in-app notifications as well as e-mail and text alerts
Emergency button
By installing a car tracking device, parents not only get to view where their children are driving to but how fast they are driving as well. This is especially useful for emergency situations as it allows parents to easily track down the teen driver if there is a need to do so.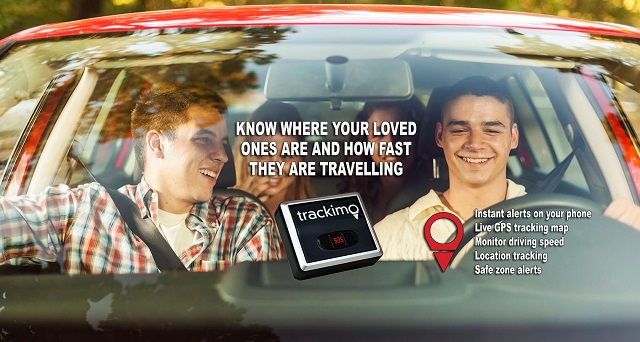 As with any car tracking device for teen drivers, the safety and security of the user continues to be a top priority. With Trackimo, teens have the opportunity to feel independent by driving on their own, and at the same time parents are given peace of mind knowing that they are capable of monitoring young drivers they dearly love at any given time of the day.
Watch the video below
Let us help you. We'd be delighted to answer any tracking questions you have or discuss the options in more details.