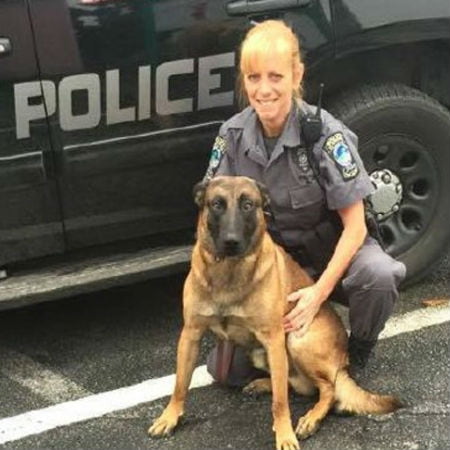 A police dog was able to locate a woman reported missing, when other search parties were not able to do so with success.
Last year, a woman from Rockdale Healthcare was reported missing, and security operatives, despite doing a thorough search, were unsuccessful in locating her. By dawn, Conyers K9 Eddie and his handler, officer Myra Scruggs, came to the scene to start their own search, with no leads as to where the woman could be.
Scroll down for video
Missing Woman Found by Police Dog
Upon starting the search, Eddie led his handler straight to two other officers involved in the search, and Scruggs had him start over again at the facility to ensure that the previous search party did not miss anything. While they were looking around the property, the fog suddenly stopped and turned his head to listen before leading the officer to the wood line.
Eddie was let go, and he ran straight to where the 83-year-old woman was and he started barking. According to the officers, they found her lying on the ground, wet, and unable to get up.
"Thank goodness for K9 hearing, because I would not have ever heard her," Scruggs shared. "The coolest thing about Eddie is once I put his tracking harness on, he knows what we are about to do. No commands need to be given."
Eddie is three-year-old Belgian Malinois who joined the Conyers Police force a year ago. His services are usually used for tracking children who are lost or for people who are suffering from Alzheimer's disease—generally, people who are at risk. It is incredible what Eddie and his fellow K9 dogs can do. Thanks to their handlers who train them to help with cases, they are capable of doing things that prove more than ever that dogs are, indeed, man's best friend.
Watch the video below