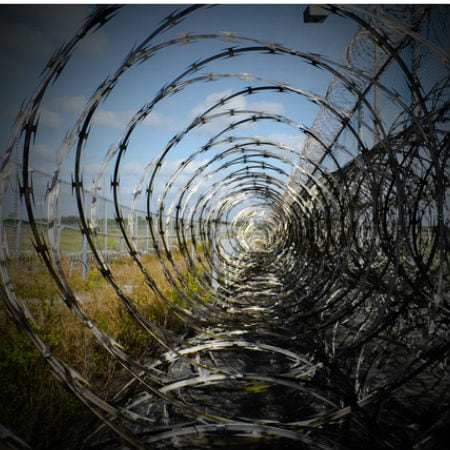 Officials of a Michigan prison started an investigation after reports of a drone-like toy flying undetected over the wall at a Jackson area prison on Tuesday, April 26, 2016, came out. The said drone-like toy was later discovered on the ground by a prison staff.
The drone-like toy, which was found to be a USB-powered Teenage Mutant Ninja Turtle heli ball, was reportedly not big enough to convey contraband or a camera and did not come into contact with inmates, Corrections Department spokesman Chris Gautz told the press.
Drone-Like Toy Found in Michigan Prison
Scroll down for video
But still, no one knows how the toy flew over the wall at the Charles Egeler Reception and Guidance Center, where new state prisoners are kept until they're finally assigned to more permanent homes. The prison just outside of Jackson is far from any playground or private residence.
"It's funny because it's truly a toy that came over. But in a larger sense, it is a very serious incident," Gautz said. Fortunately, the incident left no one injured, but the department officials knew that it raises concerns regarding the continuous rise of the use of drones, said Gautz. He also noted that Michigan officials are not aware of a drone ever been used to import or export contraband or conduct surveillance at any prison in the state. In line with this, it would be of ease to use a GPS tracker for monitoring drones.
Gautz shared that the prison officials examined the surveillance camera images and found footage of the drone clearing the wall at Egeler. They examined more footage to see whether they could find any information as to what was happening outside the wall at the time of the incident.
Last year, the New York Times reported that, nationwide, there have been at least four incidents in the past two years in which drones were used by the smugglers in attempts to evade prison security. Drones delivering contraband have crossed prison fences and walls on many occasions. Now the Michigan Department of Corrections is training staff and taking numerous other steps to be more vigilant about drone threat. Unfortunately, according to Gautz, those steps do not include restoring around-the-clock manning of gun towers at Michigan prisons and 24-hour vehicle patrols of the exterior perimeters. Those two security measures were made at irregular intervals, partly as a cost-cutting measure being practiced under the former corrections director, Dan Heyns, who held the post from 2011 to 2015.
The Michigan Corrections Organization says both measures should be restored to forestall future occurrence of prison invasion by drones.
"If we had those towers manned around the clock and if we still had the perimeter security vehicles on constant patrol, maybe someone would have seen this come over the fence and the person who did it could have been questioned," MCO spokeswoman Anita Lloyd said. "We don't know whether this was someone testing the security system there, or if it was just some kid horsing around."
Sen. Darwin Booher, R-Evart, in the Michigan Legislature, has introduced two bills—Senate Bills 487 and 488—that would make it a criminal offense for anyone to operate a drone within 1,000 feet of a state prison. Both have passed the Senate Committee on the Judiciary and are only awaiting final approval by the full senate.
Watch the video below