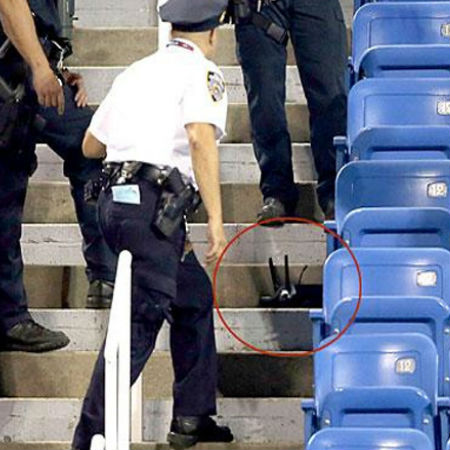 A New York City teacher who taught science at school got his whole world turned upside down after he got into an unfortunate incident with the law over the issue of his drone. The science teacher was issued a ticket after he flew his drone over the stadium where the US Open tournament was being played. It should be noted that sporting arenas are part of the areas regarded as restricted for GPS guided drone to fly in, and operating the unmanned aerial vehicle in such region amounts to breaking the law. Right now, the school teacher is in a court for a hearing of his offense.
Drone Crash At A Stadium
Scroll down for video
An Account of What Happened
The teacher, 26 year old Daniel Verley, is facing possible charges of reckless endangerment and operating a GPS drone quadcopter in a New York City public park which was definitely outside of all the areas prescribed legal for drone flights and operations. Receiving a desk appearance ticket over these counts, he has now shown up in court for his hearing of the case.
On the fateful day, the drone was buzzing over the Louis Armstrong Stadium in New York when Daniel lost control of the aerial device, causing it to crash into some seats. Operating the drone from a park that was near the stadium, Verley had no idea that his craft had encountered some difficulties till he checked social media. Immediately he got wind of it, he notified authorities of what had happened himself.
Upon crashing into the stands, the GPS drone got destroyed as it broke into pieces and the match being played had to be stopped for a while due to the intervention of the police and the fire department. The match was subsequently continued as it was only a brief stop in proceedings. On the day, the match in progress was between Italian Flavia Pennetta and Romanian Monica Niculescu.
According to the lawyer representing Daniel Verley in his case, his client had no interest whatsoever in the tennis match being played live and was only at the park to try out his drone. "He was there to photograph the sun setting at Flushing Meadow Park", D. Andrew Marshall said.
Verley happens to be a teacher at the Academy of Innovative Technology situated in Brooklyn and an official at the New York City's department of education has confirmed to ABC News that Verley is truly a science teacher at the institution, having started as far back as 2013.
"This is not a school related incident, and we will monitor the criminal case closely. Any disciplinary action will be taken based on the information from the criminal case".
Marshall has also argued that Verley, being a teacher of science technology, had the aim of using the drone for a teaching in his class.
Watch the video below