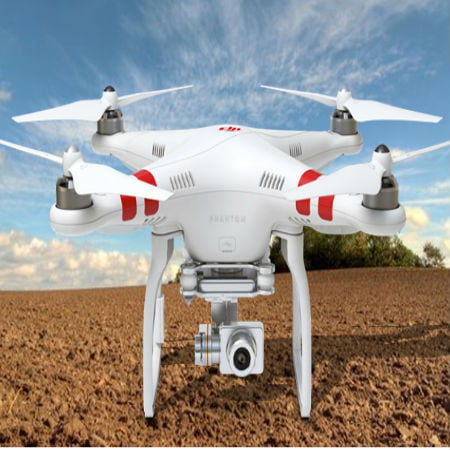 Another drone crashed at the White House, this is once again a proof of how easy it is to acquire a drone and crash it the next second. We have heard many flyaway drone stories from drone owners who had similar experience and we want to share one with you along with tips on what to do if you lose your drone.
Lost and Found Phantom 2 Vision+
Scroll down for video
A few months ago, drone owner Andrew Amato and his team went to a golf course to fly their Phantom 2 Vision+. At the time, the weather was clear, although it was a bit breezy. When they reached about 200 feet high, the wind started to pick up until it blew the drone away. They were forced to activate the Return to Home feature with no avail. The drone was struggling to fly back to them, but the wind is just so strong and it almost didn't move until the battery ran out.
They tried to chase it, but to their dismay, it went to the opposite direction, toward Rod and Gun Club. Andrew said he didn't want to be shot but also wanted to see his GPS drone camera again even if there was a big possibility that it was broken already.
So they all hurried to the club. Luckily, when they arrived, nobody was there. They put on bright colors just in case somebody mistook them for something. For two good hours, they searched and searched but didn't see anything that resembled their drone. It was already dark when they decided to give up.
What they did next sent an e-mail to the club explaining what happened. They requested the members to contact them in case someone found it and told them they were willing to give a small reward. The people they met, thankfully, were a very approachable bunch and said they would inform them if it turned up.
In the next two days, snow piled up to 4 inches. They were crestfallen, they were positive that if ever the Phantom was found, it would be beyond repair.
One week later, they received a message from the club informing them that one of their members had found their GPS drone!
To their amazement, their drone was almost undamaged! The gimbal was still there, the landing gear was untouched, and even the propellers were complete and unscathed. After they charged the battery, it's as if their Phantom was brand new—well, except that the camera was overturned on the gimbal.
We had some gimbal issues previously so we thought we would have brought it to DJI for repair. But before deciding, we first search on the Internet maybe there was a way we could fix it ourselves. We find out that many pilots also had the same problem. We also discovered a video from YouTube which was very helpful. It's an instruction with a demonstration on how to fix the problem.
It required a steady hand and fortunately, we were able to repair the camera. But another problem came out, the image was blurry and the lens was misty.
What we did was we let it stand for a few days more so when the lens dried out, the camera was functioning again.
It was really incredible, perhaps the drone gods were with us. Imagine our Phantom fell from at least 200 feet above and was left outside frozen two more than a week. We already accepted that our drone was good as gone and yet here we are flying again.
The lessons here are: equip your drone with a quality 3G GPS tracking device like Trackimo so you don't have to waste time looking for it or wait for some good people out there to turn over your stuff. The moment you lost sight of your drone you can check your GPS tracker as where your Phantom is currently resting. I also learned that there are still good people out there who are willing to help you if you only learn how to ask.
Watch the videos below
Let us help you. We'd be delighted to answer any tracking questions you have or discuss the options in more details.