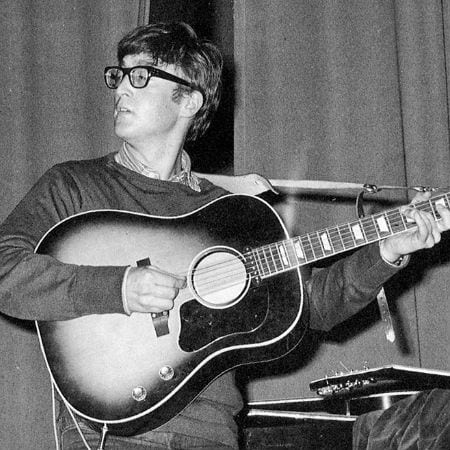 In 2015, John Lennon's long-lost acoustic Gibson J-160E electric guitar, which he used to record The Beatles' Please Please Me and With the Beatles albums, sold for a record-shattering $2.41 million during a live auction.
The instrument, which had been missing for over 40 years, sold three times its estimate of $800,000 to an anonymous buyer. Locating John Lennon's guitar proved to be harder than expected, but as fate would have it, it found its way back to its rightful place.
Locating John Lennon's Guitar That Went Missing for Decades
Scroll down for video
Lennon's guitar was one of two nearly identical 1962 Gibson J-160Es purchased by The Beatles manager Brian Epstein for Lennon and George Harrison at Rushworth's Music House in Liverpool. The guitar was used by the musician to co-compose with Paul McCartney their classics like "I Saw Her Standing There," "She Loves You," and "I Want to Hold Your Hand."
Back then, Epstein paid about $450 for each of the guitars, which is equivalent to $4,600 today, taking inflation into account.
Locating John Lennon's guitar was tougher than anyone would expect it to be, as nobody knew how it went missing in the first place. The guitar's disappearance has been one of the most enduring mysteries since 1963. The musical instrument, a Gibson Jumbo with a Sunburst spruce finish and P-90 single-coil pickups, was valuable in the collection of music it produced—music that changed the course of rock history, despite the fact that Lennon actually used it for only a brief period.
What the media does know about the guitar's disappearance is that it was left behind by the band's longtime roadie, Mal Evans, after one of the band's legendary 1963 holiday concerts at the Finsbury Park Astoria Theater in London.
Speaking about the guitar's disappearance later on, Evans shared that losing the prized instrument was the lowest point in his early career with the Beatles. Lennon also teases him occasionally for it, saying, "Mal, you can have your job back as soon as you find my guitar."
Nobody knew what happened to the guitar in the four years that followed, but by 1967, it resurfaced at a San Diego guitar shop called the Blue Guitar, a popular hub for the city's folk, rock, and bluegrass scene. The journey to eventually locating John Lennon's guitar started there.
The guitar was likely taken as a trade-in, as nobody remembered who took the guitar in or which store it was associated from, nor did any written records remain. Clearly, back then, nobody knew of the guitar's significance. The Gibson was purchased for $175 by Tommy Pressley, who was then a 21-year-old carpenter's apprentice and bluegrass player who frequented the shop.
Two years later, struggling and in need of money, Pressley sold the guitar for the same price he bought it to his friend John McCaw.
McCaw, by 2015, worked as a contractor in the San Diego area, and he played the instrument off and on over the past four decades, admitting that it often stayed on his wall or in a closet.
He shared about the instrument, "What you see today is exactly the way it looked the day I bought it 46 years ago. All the little dents and nicks and dings that you see were all there."
In April 2014, McCaw resumed his life in music and had just completed a group guitar lesson at San Diego's Sanctuary Art and Music Studio, when he noticed a 2012 copy of Guitar Aficionado magazine with George Harrison's son, Dhani, on the cover. Inside the magazine was a photo of George's own 1962 guitar, which is still owned by his estate.
McCaw noticed the closeness of the serial numbers of both guitars, and he and his friend Marc Intravaia, a studio owner, contacted Beatles Gear author Andy Babiuk, who then examined and authenticated the instrument as the same one that Lennon lost decades ago. In fact, the guitar is included in the cover of Babiuk's revised Beatles Gear: The Ultimate Edition.
Speaking with Guitar World, McCaw said, "It was at that point that I realized I can't keep the guitar. It's too big for me. It's not going to fit in my house anymore."
The guitar is among the most significant instruments in rock history: it's one of two nearly identical guitars purchased by Brian Epstein for two of the biggest rock bands in history. It was used to co-compose many of the band's early classics.
Lennon's earliest known use of the guitar was during the Abbey Road recording sessions in 1962, when the Beatles, with Ringo Starr, have only recently replaced original drummer, Pete Best. They recorded "Love Me Do" and "PS I Love You" and the guitar, since then, has been part of the iconic history of the similarly iconic band.
Tips for Keeping Musical Instruments Safe
While locating John Lennon's guitar ended with fate helping everyone trace it, not all musicians are born with the same luck. And unfortunately, a lost instrument is more common than we want it to be. But rather than misplacing it like what John Lennon experienced, musicians who often have to go overseas for gigs are left in constant fear that their instruments might get lost while on flight. This is why most of them now use trackers that are able to locate items using GPS devices. These trackers are small enough to be attached to objects but are capable of sending real-time location of the tracked object.
Any musician would agree, losing what you would call, safe to say, your best friend in the music industry is the very last thing you'd want to happen. But by taking the right precautionary measures and using the right devices, your next travel with your musical instruments will sure be less worrisome.
Watch the videos below