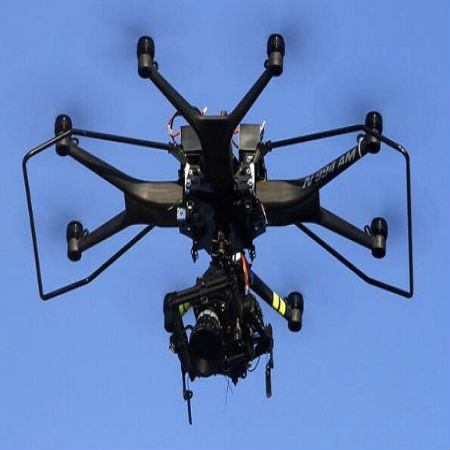 On October 26, 2015, a drone collided with power lines and caused a wide power outage to hundreds of West Hollywood residents. The following day, West Hollywood made the rules guiding flying unmanned aircraft more stringent. The West Hollywood City Council voted unanimously on the approval of the final reading of drone regulations, including an ordinance that disallows drones from taking photos, videos, or audio recordings of people where they have a reasonable expectation of privacy, such as their home or hotel room.
West Hollywood LA on Drone Regulations
The Los Angeles city Attorney on Wednesday made it known to the public that under the city's new drone regulations, two men would be the first people to face criminal charges. Michael Ponce, aged 20, and Ariel Chappell, aged 35, could each get 6-month sentences for violating the ordinance, Mike Feuerstein, the city attorney said.
Scroll down for video
On December 12, according to what City prosecutors say, an LAND air unit had to change its landing path because of Chappell's drone. Before then, a few days before, Ponce was caught flying a drone within three miles of several hospital heliports close to Griffith Park.
The moves by West Hollywood and LA are the latest efforts in drone regulations, which have drawn anger in recent years after, among other things, being flown into the airspace of planes fighting wildfires.
In October, the Los Angeles City Council approved an ordinance that made it a misdemeanor to violate Federal Aviation Administration drone regulations, including flying within five miles of an airport without permission.
This new Hollywood law has mandated that every civilian drone pilot must register their aircraft with the city plus with the FAA. Drone operators in West Hollywood have to place a registration number and a permit issued by the city on the drone, where it is noticeable from the ground.
Drones are now prohibited from flying at night, unless you have authorization from FAA. Also drones cannot fly above city parks during city-sponsored events in the park unless they have authorization. They also cannot fly above the city hall or fire stations or police stations. A misdemeanor charge can be brought against default.
Mayor pro tempore Lauren Meister recommended the ordinance when drone-related incidents were getting on the rise.
At a council meeting last month, Meister said at an event at West Hollywood Park (a summertime rally that had hundreds of people in attendance celebrating the court's ruling on gay marriage), "There was a drone flying over, and people were very, very uncomfortable."
A drone also crashed into electric wires in October, knocking them to the ground. The wires lined Larrabee Street and Sunset Boulevard, and power was cut off for three hours for about 700 Southern Edison customers.
Furthermore, a resident of West Hollywood, Dan Berkowitz, in November talked to the council about how a drone one day was buzzing about 15 feet above him when he was on his home's terrace reading a newspaper in a bathing suit. He said it was the whirring sound that alerted him.
Berkowitz said he was "disturbed by this Peeping Tom" and that when he got up to get a closer look, the drone flew away.
"I'm sure flying a drone is fun, but please, keep it out of my face, out of my house, and out of the power lines," he said.
West Hollywood city attorney Michael Jenkins told the council during the first reading of the ordinance that the regulations come at a time of a "rapidly changing, fluid environment," when it comes to federal, state, and local drone regulations and that government agencies have been struggling to address safety and privacy concerns.
Governor Jerry Brown went through a lot of bills in the fall—bills that would have disallowed civilians from flying drones over prisons, schools, and wildfires. "Drone technology certainly raises novel issues that merit careful examination," Brown wrote in his veto message. "This bill, however, while well-intentioned, could expose the occasional hobbyist and the FAA-approved commercial user alike to burdensome litigation and new causes of action."
Watch the video below