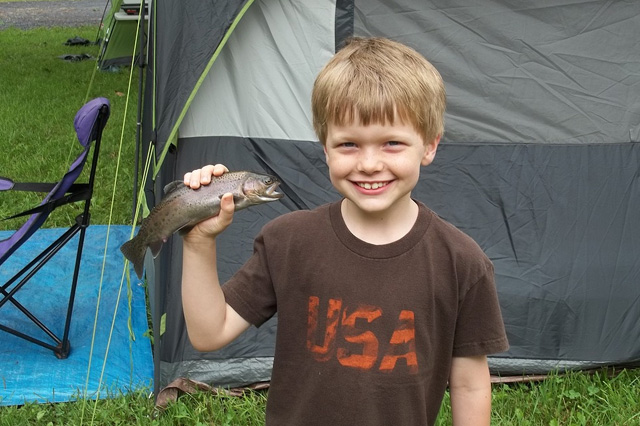 Is it your child's first time to go on a summer camp? In the camp, children are discouraged  from using gadgets as they are expected to spend most of their days doing physical activities such as running, swimming, hiking—anything that would make them exert energy. They will be given challenges that will help them develop life-long skills, feel confident, and grow up independent.
This is an adventure of a lifetime for your kid. As a parent, you have to be very supportive of your youngsters. It is important that you make your preparation right because your child's summer camp experience will partly depend on your preparation.
There's no need to fuss, you just need enough time to carry out your plans.
Scroll down for video
Here are the keys in preparing for your child's summer camp easily:
1. Pack early
Most summer camps usually hand out camp requirements in advance to give parents enough time to prepare. It's never too early to make preparations. Search early for the items in your packing list and as soon as you completed it, toss them immediately into the trunk. If you do last-minute preparation, you are likely going to forget many items and that would affect your child's experience at the camp.
2. Be calm
Don't be overwhelmed with all the things you need to do at once. You can only relax if you have the luxury of time to pack all the needed items. Your child can sense if you're under stress and it can rub off on him. Don't worry too much if you forget some things, it's probably available in the camp store.
Tips for first time summer campers
3. Consider packing old clothes and gear
Some summer camps can go on for many weeks, so it's financially tough if you insist on bringing new supplies only. Plus when they get home, it won't be new anymore, many of his clothing will just probably be thrown away, which may not be a good thing, but at least it means they had a good time there.
Consider packing used jeans, shirts, and socks, old sheets, pillowcases, and towels. But make an exception for sleeping bag. It's important that they stay warm and comfortable at night.
4. Include your child in the preparation
Take your child's preference into account when preparing his items. They are the ones who are going to use it, so they need to know what's in their bag and where it is placed. That will also give them an idea on how to arrange their stuff in their bags when it's time to go home.
5. Label all items
Kids tend to lose their belongings in the camp after an activity. To help the camp identify the personal items lying on the camp grounds, put label on his every clothing and gear. Invest in Dymo label maker and plastic labeling tape. You can also make your own marking using Sharpies as it won't come off even after a few washes. Or go to Mabel's Labels for a customized camp label pack.
6. Pack extra clothes
Do not forget to pack extra set of clothing. Kids tend to get dirty and change clothes any time of the day. In case they are not able to wash their laundry immediately, they still have something fresh to wear.
7. Pack extra hats and sunglasses
Kids will spend most of their days in the ground, that means they will need protection against the hot weather. Although sunscreen, sunglasses, and hats are available in the camp store, it may be expensive so it would be better if you pack some for your kids.
8. Choose bag carefully
When choosing a bag for your child to bring at the camp, make sure that he can carry it himself. Select a bag that has a roller and is easy to clean like plastic foot locker. Or if it's just an overnight, a lightweight duffel bag is spacious enough for the items and small enough to fit under a bunk.
How to Emotionally Prepare Kids for Overnight Camp
is a lot different from weekend sleepover. Here are a few tips to help you prepare your child feel ready:
9. Practice independence earlier
Teach your child how to manage her basic hygiene and gear by herself. Sending her to a friend's house for an overnight stay (for weeks) will help.
10. Follow your child's lead
When talking with your kids about summer camp, show your enthusiasm. Let them know that you yourself is excited for them so when the time comes for them to leave, they won't feel sad because they know you want them to be at the camp.
11. Attend camp orientation if there is one
We can't help but feel anxious about our kids leavings the safe corners of our home. But attending orientation and having an idea of what they will be doing at the camp and how exciting the experience will be for them will help you calm down.
12. Be aware of the drop-off details
It would be better if your child knows what to expect—whether a bus will pick her up or you will drive and drop her off in the camp or if you will walk her to her cabin or just at the entrance. Knowing all these details will make your child feel better.
13. Find out the camp's communication policy
Little campers are always busy and expect very little to no mail from them. However, they would love it if they receive one from you. So don't forget to drop a postcard or more in the mail. If it's a food package, make sure that you send enough for your child and his cabin mates.
14. The camp's no cell phone policy
There's a good reason cellphone is banned in the camp—it will just distract the kids from interacting with friends and learning essential skills. Admit it, you probably want them to bring cellphone so you can contact them. You want your child to contact you in case there is an emergency for your peace of mind. But respect the camp rules. Besides, there is another way for you to monitor your child in the camp without breaking camp rules.
You let your child put on a 3G GPS tracking device like Trackimo. You may not be able to hear your child's voice, but you can definitely monitor his activities 24/7. The device will notify you if your child enters a restricted area. Your child can also press a special button to let you know if he needs emergency assistance.
15. In the camp, no news means good news
The first time around, it's normal for parents to find it difficult to be separated from their kids. But trust the camp. Surely, before deciding which camp to enroll your child into, you did your research and asked around. Don't panic if you don't receive a word from your child while he's at the camp. It's one way to train them to be independent.  If there is a problem, the camp's professional staff will definitely inform you.
Watch the video below