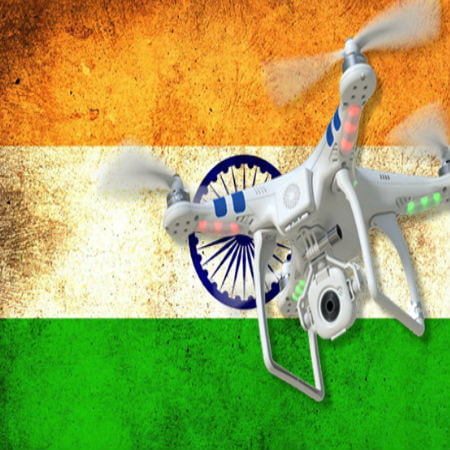 Along with the other drone policies for every country, a draft drone policy on paper has been released by the Directorate General of Civil Aviation (DGCA) in India with detailed plan for obtaining a unique identification number (UIN) and permission to make use of a civil unmanned aircraft system (UAS). The DGCA refers to the increasing civil use of UAS negative impact on property and life in the areas with natural calamities and infrastructure monitoring for surveys, commercial photography, aerial mapping, etc. as the reasons for the necessity of guidelines. In April 2015, it was reported that the DGCA was putting together the guidelines for the operation of UAVs or drones in the country, in which drones legalization were expected.
India's New Draft Drone Policy
Scroll down for video
Together with the announcement of the policy comes this statement: "UA operations present problems to the regulator in terms of ensuring safety of other users of airspace and persons on the ground. However, in view of technological advancements in UAS over the years and their increased civil applications, it has become necessary to develop guidance material to regulate this activity."

Issuance of unique identification number (UIN)
According to the new draft drone policy, all drones to be operated in India will require the operator to obtain a UIN issued from the office of the DGCA. This will be granted to Indian citizens only or body or a company that is registered and has its principal business office in India, provided its chairman and two-thirds of its directors are citizens of India while its ownership and effective control must be in the hands of Indian nationals.
All documentations required to fly a drone include address proof, statement of purpose of operation of UA, specification of the drone including (manufacturer name, type, model number, year of manufacture, range and height, type of propulsion system, weight and size, flying capabilities in terms of maximum endurance, equipment capabilities), clearance of character from the police, and permission for all frequencies used in drone operations from the Department of Telecommunications.

Who requires an UA operator permit?
The draft drone policy also stated that all drone operators operating unmanned aircraft at or above 200 feet above ground level shall obtain a UA operator permit (UAOP) from the DGCA. Users with drones that operate below that level out of limited and danger areas as well as Temporary Segregated Areas (TSA) and Temporary Reserved Areas (TRA) will be required to obtain permission from the local administration.

Procedure for issuance of UA operator's permit (UAOP)
For any drone to be flown above 200 feet, the operator must obtain a permit from the DGCA with the following documents: civil or defense air navigation service (ANS) provider, land or property owner to take off and land UA, piloting and training records, third party accidental insurance (if applicable), and security clearance from the Bureau of Civil Aviation Security of India.

Classification of civil drones
Civil UA are classified in conformity to their weight as listed below.
i) Micro : Less than two kg

ii) Mini : Greater than two kg and less than 20 kg
iii) Small : Greater than 20 kg and less than 150 kg
iv) Large : Greater than 150 kg
With above analysis, it seems drones over 150 kg flying under 200 feet will only need permission from the local administration, while drones under 2 kg flying over this height will need a license.

Security and ownership conditions
All drones with a UIN cannot be disposed or sold without permission from the DGCA. In case of accident or loss, the operator will notify the police, BCAS , DGCA, and the Director of Air Safety within 24 hours as well.

Flying conditions
Pilots are expected to be at least 18 years old and should have previous training equivalent to that undertaken by aircrew of manned aircraft or a private pilot's license holder for helicopters or aeroplanes with FRTOL (flight radio telephone operator's license). This requirement is applicable only to drones flying above 200 feet and not for pilots in the recreational flying.
On a side note regarding drone flying, it would be helpful to use GPS-guided drones and use a real-time GPS tracking device for monitoring and assurance of safety not only for drones themselves, but also for the users.
Watch the video below