A lot of us would prefer to age in place. We want to spend the rest of our years in the comforts of our own home, as peacefully and cozily as possible. But truth be told, leaving the elderly alone at home with no one they can ask help from the second they need it is putting them in so much risk. One of the biggest problems seniors face is falling.
Falling at home is a long-existing problem that, sadly, has not been addressed the way it should be. Statistics have it that 6 out of 10 falls happen at home, in the same environment seniors hope they can find security. Elderly falls can happen in the bathroom where the floor is almost always wet and slippery, in the kitchen, or in the sidewalk.
As scary as it sounds, the issue of elderly falls at home can be addressed in many ways. One noteworthy way is to use GPS medical trackers. With these tiny devices, you can monitor their daily activities, receive alerts the second something off happens, and even prevent falls. What makes medical trackers is that it uses global positioning system (GPS) technology to give you all these pieces of important information in real time, giving you good enough opportunity to offer immediate assistance when they need it and preventing any more unwanted consequences.
Besides the use of technology, here are other things you can do, some tips to follow, to prevent falls in the elderly.
5 Ways to Prevent Falls in Elderly
Scroll down for the video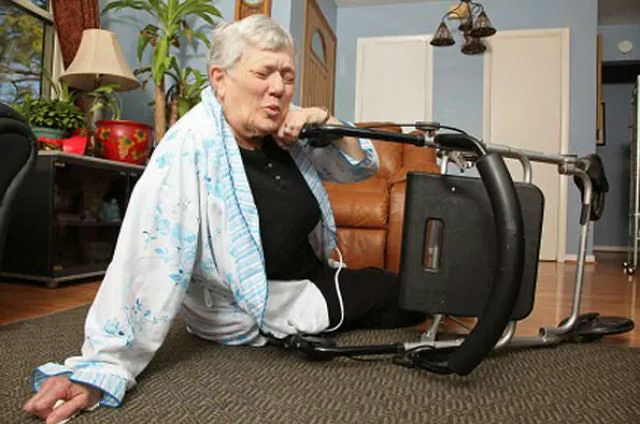 One fall can cause the elderly serious injury. According to the Centers for Disease Control and Prevention, falls are the leading cause of injuries and deaths among older Americans. But by turning the house into a very safe place can help. It's a matter of how you can do that. To help you out, here are some tips for keeping your house fall-proof and prevent falls in elderly.
1. Keep the frequently visited areas at home dry
Keep most of the areas at home dry, especially the ones where most falls happen. Seniors can slip and fall in kitchens and bathrooms where the floor is prone to getting wet due to leaks and spilled water. The second you notice a part of the house could pose a danger, clean it up immediately.
2. Don't have them wear loose clothing
As much as the hot weather is begging you to go for it, baggy clothes make your more at risk of falling at home. To prevent falls in elderly, it is best that you encourage them to wear clothes that are better fitting.
3. Maintain proper house lighting
Pay attention to the lighting around the house. If you deem it necessary, increase the lighting by using brighter lamps and bulbs. Even in bathrooms, where lighting is usually minimal, you can add night-lights to make sure the area is well-lighted for the elderly.
4. Keep significant tripping hazards in cabinets
Make the house a safer place by removing anything on the floor that can cause seniors to lose balance and fall. Keep usual walking areas free of clutter or any obstructions. Cables are one of the most common causes of falls, so make sure you have them organized. Avoid using throw rugs or if you can't help but use one, at least make sure they're not slippery. Check the floor if there's a need for some repair and make sure carpets aren't loose.
5. Take the time to discuss their health conditions
When was their last eye checkup? Are they getting enough exercise? Do they take their medications? All these have to be discussed, so don't hesitate to strike a conversation about their health. If you feel the need to, talk to their doctor. Falls are preventable, and as the National Council on Aging writes, reviewing medications with the doctor or pharmacist is one of the best ways to prevent that from happening.
While it's often tagged the safest place we could ever be, our own home can be dangerous too, especially for seniors who've decided to age in place. But there are things you can do to still protect them from these hazards. You just have to know where and how to start.
Watch the videos below
Let us help you. We'd be delighted to answer any tracking questions you have or discuss the options in more details.