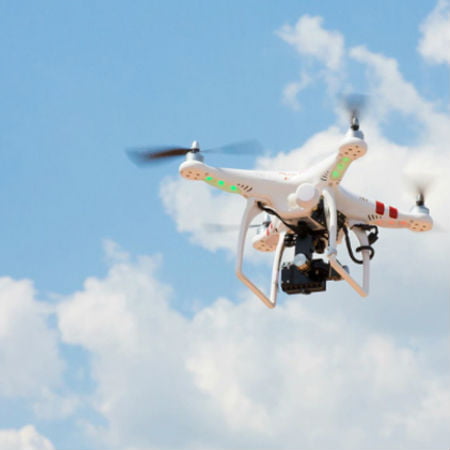 As more and more trends continue to pop out, so do the technological products introduced to the public. GPS drones went from military devices to a photographer's dream companion. For Yorkshire-based company Proflight, they happen to be looking to push GPS drones as more essential devices that may be modified to watch over our dependent loved ones in the near future. With UAVs already capable of providing both location information as well as real-time surveillance,  it is only a matter of time before we can make use of GPS drones as safety companions.
GPS Drones as Safety Companions
Scroll down for video
ProFlight is currently under buyitdirect.co.uk. The UK electronics distributor company purchased the drone manufacturers with the aim of becoming the country's biggest retailers in the UAV market. According to managing director Nick Glynne, Proflight is currently targeting multiple markets to sell their drones to.
"The business designs and builds drones for a number of markets, including drone racers, hobbyists, and professional aerial photographers and cinematographers," Glynne said. "Our intention is to sell ProFlight products and pilot training to our customer base."
The online platform, launched as DronesDirect.co.uk, offers a variety of popular drone brands including Yuneec, DJI, Parrot, and of course, ProFlight. Manning the operations and development of the business is the founder of ProFlight, Tim Morley, one Glynne praised for his ability to produce high-quality products and services. The two decided that now would be the best time to invest in the drone market as the demand for it continues to grow.
According to Glynne, the company will be launching new products in the future presumably to introduce new models that cater to more "domestic" users.
Glynne said, "Product development will be the key to our success. This is a new step for us—instead of exclusively focusing on buying off the shelf products from the leading brands, we will also now be developing our own products and selling them direct to our customers."
Aside from drone products, the online platform is set to offer a number of related professional services like pilot training and custom building. Those into drone racing can find racing products to customize their UAVs, while photographers can choose from a variety of models fitted with action cameras and top-of-the-range gimbals. The products are to be purchased directly from the Web site or through the company's drone store in Huddersfield.
But perhaps the most important use for these GPS drones is how it can act as surveillance to help monitor and assist our loved ones in the future. There has already been a study conducted in the United States courtesy of the researchers at the Nicer Robotics Lab at the University of Illinois. The team is looking to introduce their own wave of "angel" GPS drones as safety companions that can take care of dependents or medical drones in health industry.
Whether you are looking to purchase a drone for commercial or personal use, there is no denying that they are one of the most profitable tech devices sold in the market today. Manufacturers can thank the need for lightweight and low-cost technology as the reason behind the continuous demand for GPS drones as safety companions.
The benefits of these GPS drones are endless, much like what our smartphones and computers are used for nowadays. There will always be an endless stream of possibilities surrounding drones, no matter how extreme or practical this reason may be.
Watch the video below