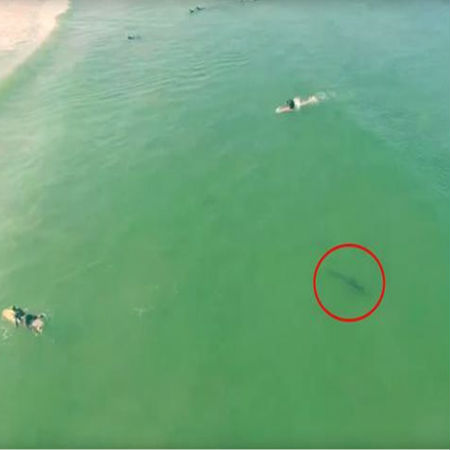 Drone technology is becoming popular and is widely expanding even further on a daily basis. Researchers from Duke University and UNC have been trying to use drones to find sharks in coastal waterways.
Scroll down for video
Researchers at the Duke Marine Lab in Beaufort are analyzing whether drones can effectively locate the exact position of a bonnethead shark in various habitats and water conditions respectively.
They were able to do so successfully using baits in water that was about a meter deep. The drone was able to detect it, and this gave them hope to forge ahead in their research for further positive results.
Scientists say the intention of the study is to comprehend how well we're able to locate sharks with hopes to finally help inform swimmers if a shark is nearby. This research will really go a long way by saving many lives of swimmers who may have fallen into the hands of sharks as prey.
Travis Santa Barbara says this would be great if eventually it works out the way it has been planned particularly very close to fishing piers like Johnnie Mercer's in Wrightsville Beach.
"I think it's a great idea," Santa Barbara said. "Especially around the pier where people are fishing and whatnot, where there is going to be a lot fish and chum so obviously sharks are attracted to that stuff, so I think it will protect beachgoers if you have stuff like that."
We had various attacks from sharks, which many were wounded along our coast last year, Wrightsville Beach Ocean rescue captain Jeremy Owens says the introduction of drone technology would be most useful when it comes locating a missing person in the coastal areas.
"I think the drone technology is great," Owens said. "I think it could be a tremendous asset to us for providing an aerial platform for search for missing persons in the water. You know instead of calling for a helicopter down here for a search we could have drones to utilize in that way."
Researchers will continue to make use of drone's technology with the hopes of detecting possible attack from any type of shark in any coastal area. As the research continues, the future of swimmers in the coastal waters will no longer be at risk especially in the waters where drone is used. This will help conservation and research in coastal waters.
"Dolphins and turtles and fish and sharks, they all live out there," Owens said. "That's their home, but you're way more likely to get trouble when you come to the beach by getting caught in a rip current and drowning then you are having any incidents with marine life out here."
Benefits of Drone Use on a Research
Scientists can also use the drones to track and study sea turtles, seals and other marine species. The use of drones in the coastal areas might not be a threat to human lives and property as it may apply in the populated residential areas. The drone technology will do a lot of good to the scientists; however, it will make their research easier in other to achieve quick results.
The facility is providing courses to teach students and professionals on how to utilize drones for coastal research and conservation. By doing so, a large number of students will benefit from this program immensely.
Watch the video below