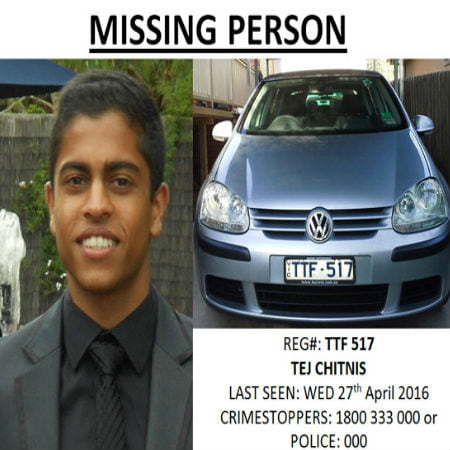 Pleas have been sent from the family of a lost Burwood East man to anyone who might have come across him to come out.
The 21-year old Tej Chitnis has been missing ever since after 10:00 a.m. on April 27, 2016.
Scroll down for video
Tej went to the city after leaving his family's home at Burwood East. However, he didn't come back home that evening for a supposed family dinner, which was to commemorate the birthday of his father and his elder brother's send forth party.
Tej is known to be an enthusiastic fan of basketball and he just completed a health science degree at Deakin University. Usually, he drives to Blackburn Station in his silver 2005 VW Golf that has a registration plate TTF 517. However, no indication of his car has been seen from a sweep of the neighboring roads. Also, there has been no record of his bank card being used since he got lost.
His mother, Reva Chitnis, mentioned that his wane was very unusual.
"We searched the streets around the station about a 100 times for his car, and we've done letter drops as well in case someone saw him, but so far we haven't heard anything," she said. "Police are still concerned they haven't found his car yet—apparently, it's quite unusual for the car to not have been seen for this long. Someone must have seen him or his car on Wednesday morning—they must have—so if you have please contact the police."
The Small Pieces of the Puzzle
Tej's phone was last traced to Healesville area just after 11:30 a.m. that Wednesday morning by signal data. The family has also been looking for him in the Yarra Valley region.
"His Vodafone records show his mobile phone was switched off at 11:26 a.m., but we found out on Saturday there was a ping from his phone near Healesville at 11:49 a.m., so we're looking around there now," Chitnis said. "We have about 60 or 70 people out, putting up posters in Yarra Junction, Warburton, Healesville, Eildon, Yea—everywhere we can."
A senior sergeant from the Forest Hill Police Station, Mick Jones, mentioned that the police are very anxious to talk to anyone who might have caught sight of Tej.
"We have concerns for Tej's well-being as his disappearance is completely out of character for him," Senior Sergeant Jones said. "Our latest information is that his phone was last in the eastern Melbourne area around Healesville. We're extremely keen to locate his silver VW Golf, so anyone who has seen it should contact police immediately."
Tej's mother begged for her son to get across to them as soon as he could.
"We are all so worried about Tej, we haven't slept," she said. "We are not sure if he's run away or not, but if he has he needs to know we love him and we want him to be safe. If he needs some space, that's okay, but please just let us know you're safe, Tej."
Whosoever has caught sight of Tej or has any news regarding him should make contact with the Forest Hill Police Station on 8847 3600 or call 000.
Watch the video below